CFM International has launched RISE – a new engine demonstrator programme featuring an open rotor architecture that promises to deliver a 20% fuel efficiency gain over today's narrowbody powerplants.
Flight tests under the RISE – or revolutionary innovation for sustainable engines – effort are scheduled for the middle of the decade, maturing the technologies required to enable a new powerplant to enter service in the 2030s.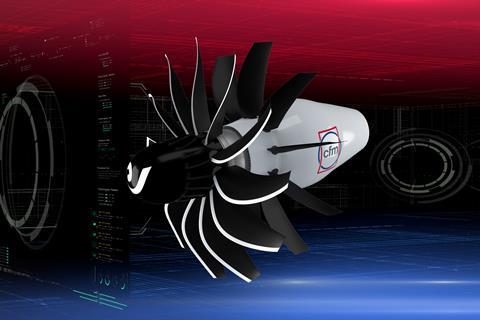 Programme goals include reducing fuel consumption and carbon dioxide emissions by more than 20% compared with CFM's current Leap engine, which itself delivered a 15% improvement in fuel burn over the preceding CFM56.
RISE builds on decades of research into open rotor designs at GE Aviation and Safran, CFM's joint owners, including the mid-1980s GE36 – which made an appearance at the 1988 Farnborough air show aboard a McDonnell Douglas MD-80 – and the French firm's more recent Sage2 demonstrator.
However, improvements in material technology and digital modelling have enabled the partners to eliminate the significant size, weight and noise penalties inherent in those earlier designs, says Arjan Hegeman, general manager, advanced technology operation at GE Aviation.
An open rotor architecture provides "huge propulsive efficiency" but which is able to "fly at the speed of today's turbofans", says Hegeman.
Fan diameter has been significantly reduced, to 144-156in (365-396cm) – in line with the external diameter of a current-generation single-aisle engine – enabling installation on a narrowbody-size aircraft.
In addition, the partners have chosen to "simplify" the overall architecture compared with previous open rotor engines, says Delphine Dijoud, executive manager, CFM RISE programme, systems engineering at Safran Aircraft Engines.
RISE features a single rotating fan, with variable pitch carbonfibre blades, behind which sits a row of static guide vanes. Safran's earlier Sage2 demonstrator featured a contra-rotating second fan stage, but that required "complicated internal structures which were very heavy", says Dijoud.
The turbomachinery of the system is contained in a booster, comprising a high-temperature and high-speed core and a high-speed low-pressure turbine. Dijoud says it is "too early" to specify the number of stages across each, however.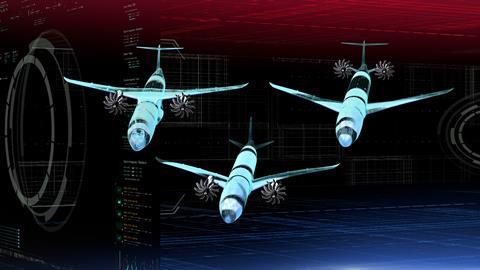 Temperatures and pressure ratios in the core will exceed those seen in current CFM Leap engines, says Hegeman, while declining to offer specifics.
That step-change in performance will be enabled by the use of advanced materials, an area which has been "our strength and focus" across all generations of engines, he says. That includes the ceramic matrix composites already in use in the shrouds of Leap-familiy engines, plus the use of 3D printing to produce novel structures – stator vanes featuring internal channels to provide better cooling properties, for example.
These will "proliferate further" into the core design, he says, where they will be joined by other technologies that "we are not at liberty to go into detail on".
Crucially, the RISE engine will be fuel source agnostic – able to run on either 100% sustainable aviation fuel or hydrogen – providing flexibility for future applications.
And, as Hegeman points out, the 20% fuel-burn improvement may be crucial to counteract the likely higher weight of hydrogen fuel tanks, allowing airlines to maintain current routes.
Multiple electric generators will also be installed on the engine, able to extract or provide energy as required.
"The design allows power to be transferred from one spool to another depending on the flight phase to optimise the spools," says Dijoud.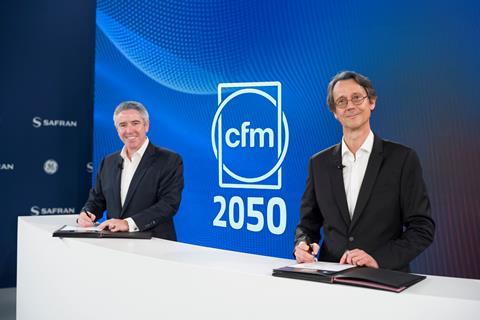 In addition, the extra generative capacity looks forward to other new architectures beyond the status quo. "Clearly, we envision generations of this platform where not only the engine itself benefits, but the generated power also provides distributed propulsion opportunities for the airframer," says Hegeman.
"It's a foundation to allow that to happen. It secures the real estate for the airframers to continue to build on."
Although the mid-2020s flight-test goal is just four years away, Hegeman points out that CFM is building on decades of research by its partner companies, whether into the overall open rotor concept or individual components. "We are not starting now – our work started a while back," he says.
GE has been "trying to solve some of the problems we ran into" since testing open rotor designs in 1980s, he adds. As a result, the architecture has "matured from decades ago" but is "an improvement without sacrificing performance".
Those tests in the late 1980s proved the efficiency of the open rotor concept but showed that noise remained a significant issue to address.
However, continued research and "advanced engineering tools, refined over decades of open fan testing, and our latest state-of-the-art computer design tools" have allowed optimisation of the aerofoil shape for "both performance and acoustics", says Hegeman. This will allow the RISE to "meet, with margin, future acoustics regulations."
The RISE demonstrator engine will be sized to deliver 30,000lb of thrust (133kN), says Dijoud, but "we have flexibility on that". Cruise speeds equal to current levels "and even a little bit further" will be achievable with the open rotor design.
Although CFM is initially targeting the short- and medium-haul segment, the design "can be adapted to customer need", even potentially scaling to widebody applications.
But near-term demand is likely to be for a new narrowbody; potential customer Airbus has indicated a possible A320neo successor could enter service in the 2030s.
Hegeman stresses that a new aircraft will have to be designed around the new powerplants. "For propulsive efficiency to be achieved it makes no sense to put a next-generation engine on yesterday's airframe and expect to get good performance," he says.
Meanwhile, GE and Safran have extended their partnership in CFM by a decade, with the agreement – which began in 1974 – now running until 2050.
"The relationship between GE and Safran today is the strongest it has ever been," says John Slattery, chief executive of GE Aviation. "Together, through the RISE technology demonstration programme, we are reinventing the future of flight, bringing an advanced suite of revolutionary technologies to market that will take the next generation of single-aisle aircraft to a new level of fuel efficiency and reduced emissions."
Olivier Andries, his counterpart at Safran, adds: "Our industry is in the midst of the most challenging times we have ever faced. We have to act now to accelerate our efforts to reduce our impact on the environment.
"Through the extension of our CFM partnership to 2050, we are today reaffirming our commitment to work together as technology leaders to help our industry meet the urgent climate challenges.