A Chinese spy has been convicted in the USA of attempting to steal trade secrets related to GE Aviation composite technology.
An Ohio federal court convicted Yanjun Xu of attempting to steal USA trade secrets through illicit means, says the US Department of Justice (DoJ).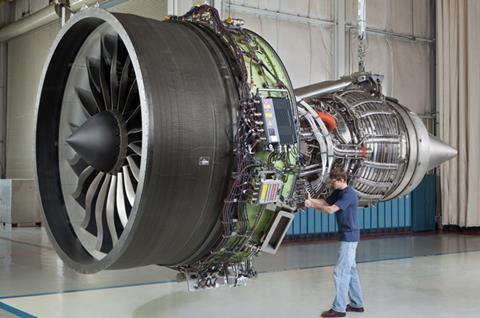 It says that Xu, a Chinese national, is a senior member of Jiangsu Province's Ministry of State Security.
GE Aviation is a leader in using composites for engines. Composite fan blades are used in prominent engines such as the GE90 and GEnx. China, however, has struggled to develop viable jet engines.
Xu used various aliases to go after specific aerospace companies in the USA. After identifying experts, he would invite them to China, ostensibly to make a presentation at universities. All travelling expenses were paid, and the experts received a stipend.
In 2017 a GE Aviation employee in Cincinnati was solicited to give a report at a university in China. The employee travelled to China and met Xu.
"In January 2018, Xu requested "system specification, design process" information from the employee and – with the cooperation of the company, who was working with the FBI – the employee emailed a two-page document from the company that included a label that warned about the disclosure of proprietary information," says DoJ.
"In February 2018, Xu began discussing with the employee the possibility of meeting in Europe during one of the employee's business trips and asked the employee to send a copy of the file directory for his company-issued computer. Xu traveled to Belgium on April 1, 2018, to meet with the employee and was arrested at that time."
Xu was convicted on three charges, and has yet to be sentenced.
"This conviction of a card-carrying intelligence officer for economic espionage underscores that trade secret theft is integral to the [People's Republic of China] government's plans to modernize its industries," says Assistant Attorney General Matthew G. Olsen of the Justice Department's National Security Division.
"But this conviction also serves notice that the United States will not sit by as China, or any other nation-state, attempts to steal instead of researching and developing key technology. Instead, and with the support of our allies, we will continue to investigate, prosecute, and hold accountable those who try to take the fruits of American ingenuity illegally."