Pratt & Whitney chief commercial officer Rick Deurloo has become president of the company's commercial engines business, succeeding former president Carroll Lane.
Deurloo "will retain his current responsibilities as senior vice-president and chief commercial officer for Pratt & Whitney, while assuming overall leadership of the commercial engines business", Connecticut-based P&W says on 27 May.
Lane had held the position since January 2020. He "has elected to leave the company for another leadership opportunity", P&W says.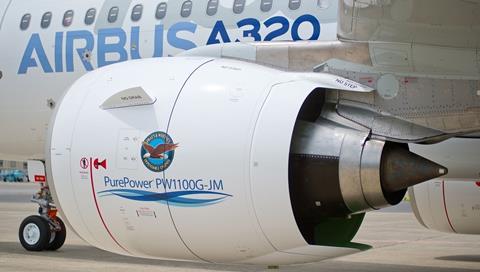 The company does not provide more details and did not immediately respond to a request for more information.
"Deurloo will assume this expanded role effective immediately and will continue to report to Pratt & Whitney president Shane Eddy," the company adds.
Eddy says Deurloo "brings a wealth of experience and a deep knowledge of our commercial customers to this expanded role".
Deurloo joined P&W's former parent United Technologies in 1998 and has logged more than 20 years of aerospace management and sales experience.
He has been P&W's COO since 2020, according to his LinkedIn profile. His other posts at the engine maker have included senior vice-president of sales, marketing and customer support; vice-president of sales in the Americas; and director of sales and marketing for large commercial engines.
"We thank Carroll for his leadership in commercial engines and for his decade of distinguished service at Pratt & Whitney and the former United Technologies," says Eddy.