The Federal Aviation Administration intends to require airlines to modify maintenance procedures to address potential manufacturing defects in CFM International Leap-1B turbofans.
The FAA outlined the new procedures in a proposed airworthiness directive published in the US Federal Register on 14 February. The agency in January issued a similar proposal for the related Leap-1A engine.
Leap-1As power Airbus A320neo-family jets, while Leap-1Bs power Boeing 737 Max.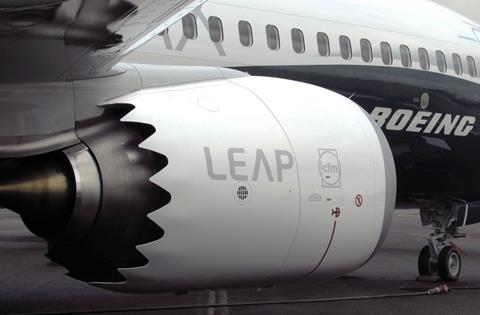 "The FAA was notified by the engine manufacturer of the detection of melt-related freckles in the billet", says the FAA's proposal. The issue may have caused "subsurface anomalies" to develop during manufacturing of some parts.
Affected parts include compressor spools, high-pressure turbine seals and disks in high-pressure and low-pressure turbines, says the regulatory filing.
"Reduced material properties may cause premature… fracture, which could result in uncontained debris release," it says.
The proposal affects 378 engines on US-registered jets. It would mandate airlines to update engine maintenance programmes and revise Leap-1B shop manuals to include new airworthiness limitations.
CFM already addressed the issue with a service bulletin.
The FAA is accepting comments to its proposal for 45 days.
The move follows the FAA's publication in January of a similar proposal related to Leap-1A engines. That proposal targeted 356 engines on US-registered aircraft.
CFM, a joint venture of GE Aviation and Safran Aircraft Engines, did not immediately respond to a request for comment.
Story updated on 14 February 2022 to note CFM addressed the issue in a service bulletin.