The Federal Aviation Administration is set to require inspections of high-pressure turbine (HPTs) cases in some CFM International Leap-1A turbofans, which power Airbus A320neo-family jets.
In a proposed airworthiness directive made public on 24 March, the FAA says a "manufacturing quality escape" affecting HPT cases could cause uncontained engine failures.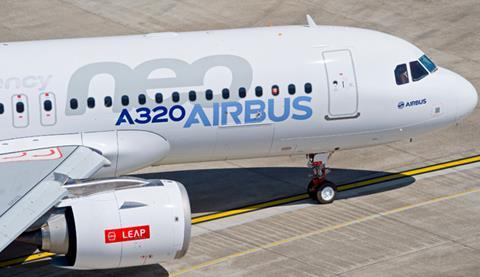 "Several x-rays of the bleed ports of the HPT case showed 148 parts with nonconforming indications, eight of which were significant enough to impact the life of the HPT case," says the FAA's proposed rule.
The issue could result in "over-temperature of the HPT mid-seal and uncontained rotor failure", it adds.
The proposal would require operators to remove and replace affected HPT cases. It notes that CFM, in October 2020, issued a related service bulletin specifying procedure for replacing affected HPT cases.
The issue affects only eight engines in service with US airlines, according to the FAA.
CFM says the proposal mandates recommendations already specified in the service bulletin, and adds that "none of the impacted parts has overflown their life limits".
"There have been no operational disruptions or unserviceable conditions attributable to this issue," CFM adds. "Safety of flight is our number one priority, and CFM has been proactively engaged with regulators and customers to address this issue."
Headline and first paragraph updated on 25 March to specify that HPT "cases" are the subject of inspections.