GE Aviation is laying off 70 temporary workers from its site in Bromont, Quebec, citing Boeing's decision to halt 737 Max production as one factor leading to the cuts.
The Ohio-based engine maker confirms it has "informed 70 temporary workers of a temporary layoff" at the Bromont facility, which is about 80km (43nm) east of Montreal.
Those workers account for 13% of GE Aviation production workers at Bromont, where the company performs engineering, robotics and production work for several engines, including CFM International Leap turbofans. The Bromont site employs some 900 people.
CFM Leap 1-Bs power the 737 Max.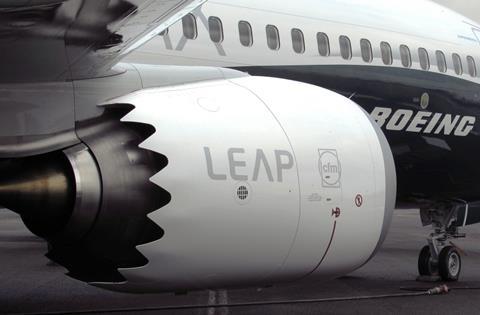 GE Aviation, which owns CFM International in partnership with Safran Aircraft Engines, confirms that the layoffs stem at least partly from the 737 Max production halt, set to take effect imminently.
The job cuts, reported by Quebec media outlet la Voix de l'Est, reflect variations in component output, it adds.
GE Aviation has no additional "large scale" layoffs planned but cannot rule out small staff adjustments at some sites, it says.
GE Aviation has also responded to the Max issues by transferring employees from Leap assignments to those involving other engine programmes and to parts manufacturing roles in its growing aviation services business.
The company may also reduce its use of temporary workers and contractors, and cut back on employee overtime, it says.
"A key priority is protecting our ability to ramp production back up", GE Aviation says.
Boeing intends to temporarily suspend 737 Max production in the middle of this month due to uncertainty about when regulators will lift the aircraft's grounding.
Last week, top 737 supplier Spirit AeroSystems disclosed it is laying off 2,800 employees in response to the Max issues, with more layoffs possible.
Boeing has not yet laid off employees but is transferring Max workers to other programmes, it has said.
Story updated on 13 January to note that the layoffs account for 13% of GE Aviation's production workers at Bromont.