US engine maker GE Aviation is reducing its global workforce by some 13,000 employees as part of a plan to better align its business with reduced rates of commercial aircraft production.
The company is trimming 25% of its 52,000-strong global workforce – a reduction that includes GE Aviation's previously announced plan to cut its US-based workforce 10%.
"We are developing our plan for permanent reductions to our global employee base that we anticipate will bring our total reductions this year to as much as 25%," GE Aviation chief executive David Joyce says in a 4 May letter to employees.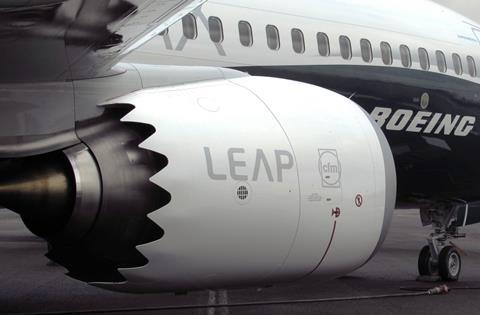 "These plans, which we expect will be ready over the coming months, are part of a comprehensive strategy we are developing for resizing the business consistent with the forecast of our commercial market," Joyce adds. "While extremely difficult, I am confident this is the required response to the continued contraction of the industry, and its protracted recovery."
The cuts will include layoffs and voluntary employee departures, the company says.
On 23 March, GE Aviation announced it was cutting 10% of US staff and furloughing for 90 days half its US maintenance, repair and overhaul employees.
Since then, the globe's two major commercial aircraft manufacturers have announced significant production cuts. GE Aviation makes the GE9X powerplant for the Boeing 777X, the 787's GEnx turbofan and the 777's GE90. CFM International, which GE Aviation owns in partnership with Safran Aircraft Engines, makes Leap turbofans, which power 737 Max and Airbus A320neos.
Boeing says 737 Max production will hit only 31 aircraft monthly in 2021, down from 52 Max monthly prior to the March 2019 grounding. Boeing is also reducing 787 production from 14 to 10 aircraft monthly this year and to seven jets a month in 2022, and reducing 777 production from five aircraft monthly to three aircraft monthly.
Likewise, Airbus is cutting A320neo production to 40 aircraft monthly from 60 aircraft monthly, and trimming A330 and A350 production, it has said.
"Customers have been hit hard by the COVID-19 pandemic, resulting in reduced aircraft production rates and decreased demand for engine services. Today's action is intended to scale GE Aviation to the reality of the commercial aviation market," GE Aviation says.
The Ohio-based engine maker has already implemented a hiring free, cancelled salary increases and curtailed spending. GE Aviation has set a goal of cutting costs by $1 billion in 2020 and additionally reducing cash burn by $2 billion through measures like inventory reductions and cutting capital expenditures.