GE Aviation's engine sales sank 48% and its service revenue tumbled 36% in 2020, but the company expects the aerospace sector will begin recovering in the second half of this year.
That prediction from parent company General Electric came despite the aviation division reporting a profit of $1.2 billion for 2020, down 82% year on year. Revenue also slipped 32% year on year, to $22 billion, GE said on 25 January.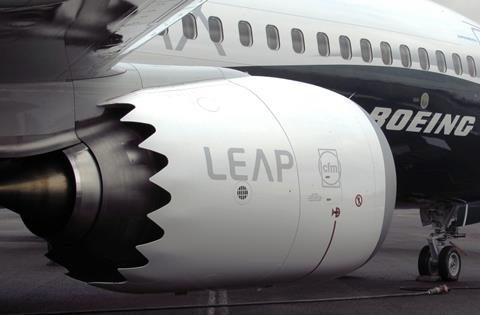 The company says its aerospace propulsion business slashed 25% of its workforce last year, trimmed $1 billion in costs and cut expenditures by another $2 billion through so-called "cash actions".
"This led to steadily improving, positive margin and nearly break-even industrial free cash flow at aviation," GE says.
The company adds that "further cost actions" are underway in 2021.
GE's 2020 results detail the full scope of the pandemic's impact on various aspects of its aerospace business.
GE Aviation received new orders for 678 commercial aircraft engines in 2020, down 72% from 2,390 new orders in 2019. The 2020 figure includes 351 CFM International Leap-series powerplants, which equip some Airbus A320neo-family aircraft and all Boeing 737 Max jets. CFM is a joint venture between the US firm and Safran.
New engine sales – which occur when GE delivers engines – tumbled 48% year on year, to 1,487 units, including 815 Leaps.
GE Aviation's revenue from engine sales plunged 31% year on year, to $2.3 billion, while service revenue sank 36%, to $3.5 billion. Engine aftermarket shop visits declined 45% over the previous 12 month-period, GE says.
GE notes that 26% of aircraft powered by its engines, including those manufactured by CFM, were grounded in 2020.
But GE is eyeing recovery: it predicts that aviation revenue will be "flat to up year over year" in 2021.
That assumption is "dependent on the commercial aviation market recovery accelerating in the second half of 2021 as well as the timing of aircraft deliveries", GE says.