GE Aviation intends to reduce its US workforce by 10% and to furlough 50% of MRO workers for 90 days in response to collapse of air travel demand caused by the coronavirus outbreak.
Lawrence Culp, chief executive of parent company General Electric, announced the cuts in a 23 March letter to employees. GE Aviation is one of the first major aerospace companies to publicly announce significant lay-offs due to the coronavirus pandemic.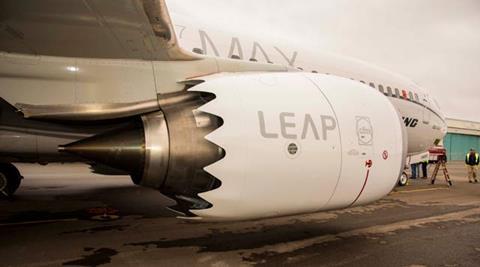 GE Aviation did not immediately specify how many staff are affected by the moves or when the workforce reduction will be compete.
Globally, the company employed 52,000 workers at the end of 2019, according to a 2019 financial filing. GE Aviation makes the GEnx turbofan, which is an option on the Boeing 787, as well as the GE9X for the 777X. It is also a partner in CFM International, maker of Leap-series turbofans, which power 737 Max and Airbus A320neo-family aircraft.
"The aviation industry is feeling the impact of this global pandemic most acutely," Culp writes. "The rapid contraction of air travel has resulted in a significant reduction in demand as commercial airlines suspend routes and ground large percentages of their fleets. As a result, GE Aviation is announcing several steps that, while painful, preserve our ability to adapt as the environment continues to evolve."
GE Aviation says it supports a request by the broader aerospace manufacturing industry for billions of dollars in US federal government aid. A bail-out package is still working its way through the US Congress.
The cuts only affect US employees, though Culp says GE continues to work "with the appropriate parties to properly address its global workforce".
"These actions build on those the business already has taken, including a hiring freeze, the cancellation of the salaried merit increase, a dramatic reduction of all non-essential spending, and a significant decrease in its contingent workforce," Culp says.
Also, Culp will forgo his remaining 2020 salary and GE Aviation chief executive David Joyce will give up half his salary, Culp says.
GE expects the job cuts, furloughs and other actions will save the company $500 million to $1 billion in 2020.
The manufacturer has been largely insulated from issues with the 737 Max programme so far, with the only lay-offs announced to date coming in January and concerning 70 employees at its Bromont, Quebec facility.