GE Aviation's number of commercial aircraft engine shipments slipped year-on-year in the first quarter of 2022, and the company continues dealing with supply chain issues.
Still, GE Aviation's first-quarter profit surged 42% year-on-year to $908 million, thanks partly to an increase in sales of aviation aftermarket services, GE reports on 26 April.
The engine maker also reports an increase in new orders for commercial aircraft engines.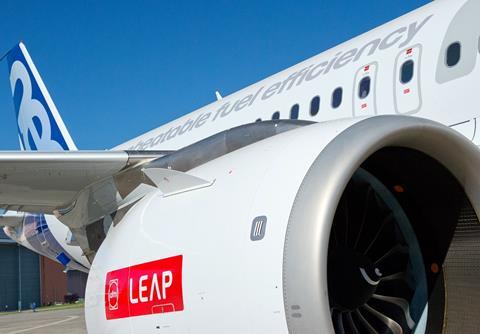 "Supply chain issues, the Russia-Ukraine war and China Covid impacts adversely affected revenue in the quarter," GE chief executive Lawrence Culp says during the company's first-quarter earnings call, also on 26 April. Executives also cite pressure from the recent jump in the USA's inflation rate.
GE Aviation sold 343 commercial engines in the first quarter, down from 359 in the same period last year.
GE chief financial officer Carolina Dybeck Happe specifically cites a decline in sales of GEnx powerplants, which power Boeing 787s. Boeing's deliveries of those jets have been halted for most of the last 18 months due to manufacturing quality issues.
But sales of CFM International Leap turbofans, which GE produces through a partnership with Safran Aircraft Engines, jumped in the first quarter to 239, up from 188 in the first quarter of 2021. Leaps power 737 Max and Airbus A320neo-family jets. Airbus and Boeing have been accelerating deliveries of those narrowbody jets.
GE Aviation is also seeing improving order activity, having landed orders worth $7.2 billion in the first quarter, up 32% year-on-year. That includes $2.5 billion worth of aircraft equipment orders (equipment includes actual engines), up 25% year-on-year, and $4.7 billion in aircraft services orders, up 36%.
GE Aviation's first-quarter engine orders included 553 commercial powerplants, including 442 Leaps. That compares to orders for 298 commercial engines, including 141 Leaps, taken in the first quarter of 2021.
The engine maker generated first-quarter revenue of $5.6 billion, up 12% year-on-year, a gain partly reflecting a 37% year-on-year jump in commercial aircraft engines services revenue.