GE Aviation turned a $2.9 billion profit in 2021, more than double its 2020 earnings, reflecting cost cutting and a bump in commercial engine services revenue.
"Our strong results reflect our underlying business fundamentals and a recovering commercial market," General Electric chief financial officer Carolina Dybeck Happe says of the aviation division on 25 January.
Despite the improved bottom line, GE Aviation generated less revenue in 2021 than in 2020, due partly to fewer commercial engine deliveries last year, the company reports.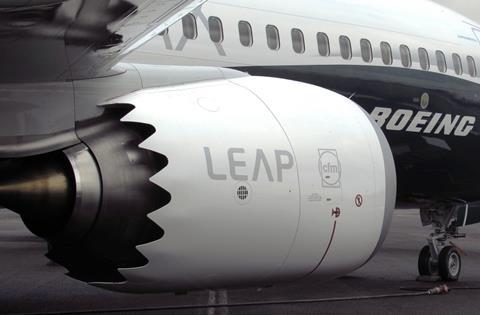 The engine maker shipped 1,487 commercial aircraft engines last year, including 845 Leap turbofans, which power Airbus A320neo-family jets and Boeing 737 Max. The 2021 full-year figure is down from 1,720 commercial engine deliveries in 2020, though Leap deliveries were slightly higher.
GE Aviation partially offset the fewer shipments with a "10% increase in commercial services shop visits" year-on-year in 2021, it says.
The result was $21.3 billion in 2021 revenue for GE Aviation, down 3.3% from $22 billion in 2020. Its full-year revenue from engine sales slipped 12% year-on-year, while services revenue inched up 3%.
GE Aviation's full-year results were capped by a $1.2 billion profit in the fourth quarter of last year, also more than double its profit in the same period of 2020.
Though commercial engine shipments declined last year, new commercial engine orders came roaring back to 2,248 units, including 1,457 Leaps. Those figures are up significantly from 2020, when GE Aviation logged new orders for 738 commercial engines, including 351 Leaps.
"Substantially" improved order activity for both commercial engines and commercial engines services resulted in GE Aviation landing $7.7 billion in new orders during the fourth quarter of 2021, up 22% year-on-year. Its full-year 2021 orders came to $25.6 billion, up 19% from 2020.
General Electric reports its full-year 2021 results as it works toward a major restructuring that involves spinning off non-aviation businesses, leaving the company fully focused on aviation.
It intends first to divest its healthcare division by early 2023, then to complete the transformation by divesting its digital, power and renewable energy segments (as a combined business) by early 2024.