General Electric's aviation business turned a $846 million profit in the third quarter of 2021 as orders for new aircraft engines and demand for aircraft aftermarket services recovered from 2020 lows.
During the same period a year earlier, GE Aviation made a $350 million profit.
"Overall, I'm encouraged by our performance, especially in aviation," GE chief executive Lawrence Culp said during a 26 October earnings call. "The aviation market is showing continued signs of improvement."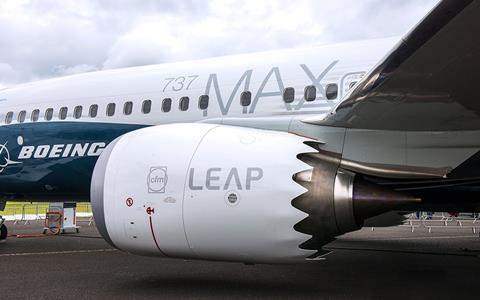 GE landed orders for 418 new commercial aircraft engines in the three months ended 30 September, up from 94 a year earlier.
That total includes commitments for 287 examples of the CFM International Leap-series turbofans that power Airbus A320neo-family jets and Boeing 737 Max aircraft. By comparison, GE – which is a 50-50 partner in CFM with Safran – landed orders for just 16 Leap engines in the third quarter of 2020.
So far this year, GE has logged 1,271 commercial aircraft engine orders, including for 866 Leaps, up from 336 orders and 46 Leaps in the first nine months of 2020.
GE shipped 377 commercial engines in the third quarter, down from 391 in the third-quarter of last year.
"Our results reflect a significant improvement in near-term market fundamentals," Culp says of GE's aerospace business. "We expect this acceleration in travel will continue, as travel restrictions lift and vaccination rates increase."
Culp notes that airlines are continually returning to active service jets they had parked during the pandemic. In the third quarter, 18% of aircraft powered by GE or CFM engines remained parked, an improvement from 20% in the second quarter.
GE's volume of aftermarket engine shop visits was up 40% year on year in the third quarter, and the company expects the figure will be up 30% year on year in the final three months of the year.
Story updated on 26 October to include GE's third-quarter engine shipment figures.