General Electric intends to spin off its non-aviation businesses by early 2024, leaving the storied industrial conglomerate focused solely on aviation.
GE disclosed the massive organisational revamp on 9 November, saying the move will help make its existing businesses more focused and better positioned to lead in their respective fields.
The move comes little more than one week after Boston-based GE completed the sale of its GECAS leasing business to Irish lessor AerCap.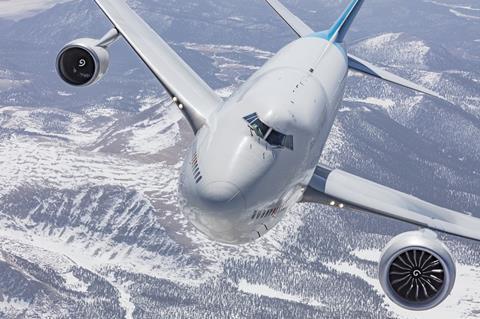 "Following these transactions, GE will be an aviation-focused company shaping the future of flight," the company says. GE Aviation, based in Ohio, manufactures turboprop and widebody turbofan engines, and co-owns engine maker CFM International with Safran.
GE Aviation chief executive John Slattery will remain chief executive of the resulting aviation-focused business, with GE boss Lawrence Culp taking the position of non-executive chair of the divested healthcare division.
GE now splits its business into four primary reporting segments: aviation, healthcare, power and renewable energy. Another business called "GE Digital" sits within the company's corporate reporting segment.
But it intends to spin off the healthcare division into a separate public company by "early 2023", and to retain 19.9% ownership of that business.
Additionally, GE plans to combine its digital, power and renewable energy segments into a single company, and to divest that business by "early 2024".
The result will be "three industry leading, global, investment-grade public companies", GE says.
"We have a responsibility to move with speed to shape the future of flight, deliver precision health and lead the energy transition," says Culp. "The momentum we have built puts us in a position of strength to take this exciting next step in GE's transformation and realise the full potential of each of our businesses."
The changes will give GE's businesses "decentralised operating" models and leave them "closer to customers", GE says.
GE also intends to "monetise" its stakes in AerCap and in oil services company called Baker Hughes, thereby "prioritising further debt reduction". The company divested GECAS to AerCap on 1 November for cash proceeds of about $23 million.