Canadian regional airline Harbour Air has again delayed plans to begin passenger flights using an all-electric-powered De Havilland Canada DHC-2 Beaver, citing "ever-changing path to certification for an all-electric aircraft".
The airline, which has been developing the modified "eBeaver" with several partners, now expects regulators will certificate it after mid-2025, Harbour said on 21 April.
"Despite everyone's best efforts, there are significant delays in the programme that have recently come to light," says Harbour, based near Vancouver. "Part of the delay in our updates has been due to us trying to understand the issues that have arisen, and the resulting consequences."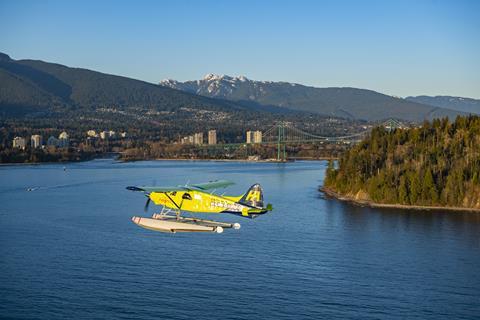 "Changing what was thought to be a frozen design comes with significant delays," it adds.
Harbour Air's programme involves equipping Beavers with all-electric propulsion systems made by US company Magnix, which replace the type's Pratt & Whitney P-985 Wasp Junior piston engines. Harbour has said eBeavers will be perfect for the short flights it operates between Vancouver and surrounding cities.
Harbour revealed the modification programme in 2019, predicting eBeavers would be carrying paying passengers within one or two years. In December 2019, it completed first flight of a prototype powered by Magnix's 750hp (559Kw) Magni500 propulsion system.
Delays ensued.
One year ago, Harbour said it did not even expect to begin flight testing a certifiable version until late 2023 due to supply chain issues and a modified development process. It also switched from using Magni500s to using 469hp Magni350s, and then to 850hp Magni650s. (Magnix stopped developing -500s and another previous model in favour of -350s and -650s).
Harbour broadly revealed a new timeline on 21 April, insisting it remains committed to the programme.
It now expects aviation regulators will "achieve harmonisation of battery requirements" in late 2024, "meaning certification of battery components will occur in 2025".
"Certification of the Magni650 is expected in mid-2025, which means certification for the installation on the eBeaver will fall after that date," it adds.
Harbour says it intends to built a "ground-running certification prototype" early next year and to fly its second prototype aircraft by year-end.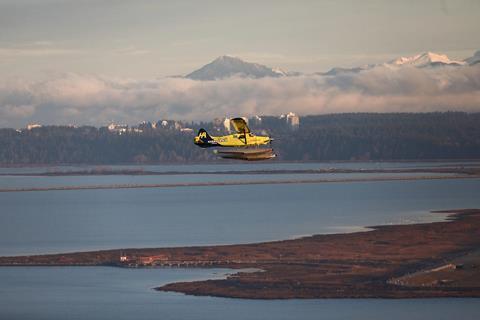 The airline is not more specific and does not immediately respond to a request for more information. Neither Transport Canada nor the US Federal Aviation Administration – Harbour has said it is working with both – responded to requests for comment.
"Over the past few months, certifying the installation of components into an aircraft where no certification path exists has been difficult," Harbour adds. "Adding to the challenge has been using novel engine and battery technology. Incorporating the elements of software and electronic control systems makes it increasingly difficult."
Harbour says it made certain misguided "assumptions" regarding certification.
"An assumption was made throughout the industry that an electric engine is equivalent to a reciprocating engine when it comes to system safety analysis and single-fault tolerance to a loss-of-power control (LOPC)", Harbour says.
"We since learned that the regulators will require a system safety analysis for a single electric engine installation to meet the reliability requirements, and that it must be single fault tolerant to an LOPC event," it adds,
As a result, Harbour says "many companies working in this sector are revisiting their architecture".
Harbour's project review also includes re-evaluating the eBeaver's "entire engine and energy storage system installation… to meet the higher reliability requirements".
It addition to working with Magnix, Harbour has said Swiss company H55 will supply the eBeaver's batteries.