MTU Aero Engines sees strong potential for a hydrogen fuel cell propulsion system to power a future regional airliner of up to 100 seats – or even larger – arriving in the coming decades.
In addition, increasingly tough environmental legislation aimed at the airline industry is likely to drive interest in small, zero-emission commuter-class aircraft, MTU chief operating officer Lars Wagner said during an investor briefing on 17 November.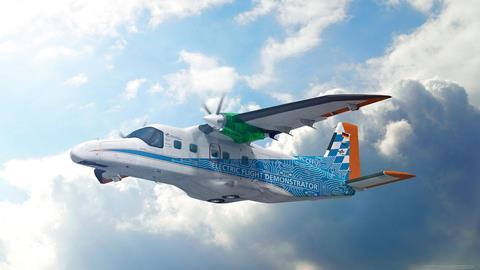 MTU is studying the potential of a fuel-cell powertrain in collaboration with Germany's DLR aerospace research body. The new propulsion system will be installed in place of one of the two Honeywell TPE331 engines that power a 20-seat Dornier 228 twin-turboprop.
Wagner concedes that in today's operating environment there would be "no business case" for a fuel cell-powered 20-seater, but believes regulation is likely to spur change.
"That's the bet. We believe there will be some structural changes on the size of aircraft due to CO2 and emission constraints," he says, citing a potential tightening of restrictions in Europe and the USA.
"I see a market opening up for smaller commuter aircraft – 100-seater or less," he adds.
Fuel cell-powered aircraft with fewer than 100 seats should become viable "from the middle of next decade", he says, "and then you can even scale it up – not into a widebody, but as a vision you can see that on a single-aisle type of aircraft… from mid- or end-2040s."
Research into fuel cells consumes only 20-25% of MTU's research and development spending, however; the remainder is invested into enhancing gas turbine technology, says Wagner.
MTU has previously disclosed its involvement in a second-generation of Pratt & Whitney's geared turbofan and is also investigating the potential of its Water-Enhanced Turbofan (WET) engine concept.
WET technology, which recycles water and heat in the exhaust stream and injects it as steam into the combustion chamber, has the potential to reduce CO2 emissions by 15-20%, NOx by 80%, and contrail formation by around half, he adds.
MTU, in collaboration with Airbus and P&W, was recently awarded funding from the EU's Clean Aviation initiative to bring the WET engine to technology readiness level 4 by 2027.
"Afterwards we'll see how we can develop this technology in the next decade into a saleable customer product," he says.
Airbus offers its A320neo-family jets with a choice of either the PW1100G or CFM International Leap-1A turbofns, but the different technology paths being explored by the two engine makers may make this harder to achieve in future, Wagner says.
Notably, CFM is developing an open rotor powerplant under its RISE technology demonstrator programme, which will have a diameter of around 3m (10ft) and require a different attachment point to current underwing designs.
Enabling the aircraft to use both engine types "will not be easy", Wagner says.
"But I believe there will be a dual-engine request from the customer and we will need to find a solution to have two possible technologies on the same platform."

Dominic Perry is deputy editor of Flight International but also contributes extensively to flightglobal.com. Although specialising in the coverage of the helicopter industry, he has written on most topics in aerospace – be they commercial, defence or business aviation. In addition, there has been an increasing focus on the decarbonisation of the industry and zero-emission flight initiatives.
View full Profile