Pratt & Whitney intends to begin producing high-pressure turbine airfoils for commercial and military aircraft engines at its new North Carolina facility by the second half of 2022.
Work at the Asheville site, now under construction, will initially include processing of metal casting used to produce airfoils.
But that work will expand one or two years later to include the actual casting process, says P&W chief operations officer Shane Eddy.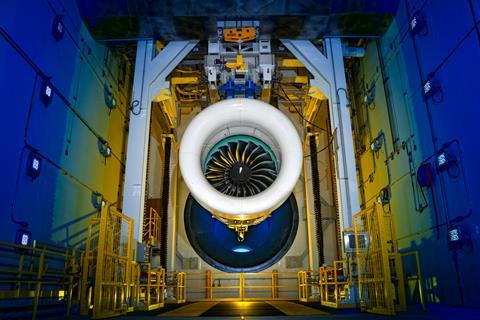 "The foundry that makes the core and creates the part will be in that same factory, and then the part will move into the machining, drilling, coating and finish inspection cycles, all in one factory," he adds.
Airfoils to be produced in Asheville include blades and vanes for high-pressure turbines in P&W's line of PW1000G geared-turban commercial engines, and its F135 military engines.
PW1000G GTFs power Airbus A220s, A320neo-family jets and Embraer E-Jets E2. F135s power Lockheed Martin F-35 fighters.
In October 2020, P&W revealed its plan to build the facility, which will enable it to bring in house some work now sourced from suppliers. The site will create 800 new jobs, the company says.
In the years before the pandemic, P&W's production rates – and those of competing engine makers – had been hampered by supply chain shortages. Executives particularly noted shortages of metal castings.
"Trying to get additional capacity into the supply chain on the casting front is very, very difficult," Gregory Hayes, chief executive of P&W parent Raytheon Technologies, said in 2019.
Currently, materials used to make the GTF and F135 airfoils travel some 2,500 miles (4,023km) through the supply chain, Eddy says.
"There are about eight hand-offs in the system," including transfers between suppliers and within P&W, he adds.
But the Asheville site "will be fully integrated from end to end," according to Eddy. "It will come into the facility as raw material in billet form. It will exit the facility as a fully, ready-to-go-into-the-engine turbine airfoil casting."
Turbine airfoils "are some of the hardest-working parts in the engine", says Eddy. "these are the first parts to see the hot gases coming out of the combustor of the engine."
The airfoils have "complex designs" that include "doubled-walled internal cooling passages", he adds.
The Asheville site's production processes will leverage technologies and methods developed by Mikro Systems, a company that P&W acquired in 2018.