Pratt & Whitney shipped 114 large commercial aircraft engines in the third quarter of 2020, up slightly from the previous period.
And though the market downturn pushed P&W to a $615 million operating loss in the third quarter, the company insists it continues investing in its future, noting plans to open a new engine manufacturing site in Asheville, North Carolina.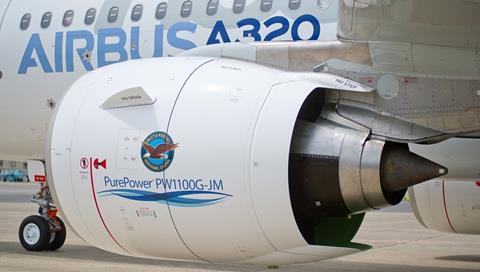 The 114 large commercial engines shipped by P&W in the third quarter mark a 24% bump from the second quarter, when it shipped 92 large engines.
But the third-quarter figure is down 31% from the third quarter of 2019, when P&W shipped 165 large engines.
The company's large engines include its line of PW1000G geared-turbofans, which power Airbus A320neos and A220s, and Embraer E-Jets E2. P&W is a subsidiary of Raytheon Technologies.
Pratt & Whitney Canada, which specialises in producing turboprop and business-jet turbofans, shipped 379 engines in the third quarter.
That figure is down 4% from P&WC's second-quarter deliveries, and down 38% from the 607 engines P&WC handed over in the third-quarter of 2019.
P&W's $615 million third-quarter loss reflects plummeting demand for both new engines and aftermarket support work. Raytheon also took also took a roughly $500 million non-cash charge related "the impact of the Covid-19 pandemic".
The third-quarter results come several days after P&W announced plans to build a new 93,000sq m (1,000,000sq ft) "turbine airfoil production facility" in Asheville, North Carolina.
The facility will "house an advanced casting foundry for the production of turbine airfoils as well as conduct machining, coating and finishing of airfoils on-site", P&W says.
The company plans to invest $650 million in the Asheville site through 2027, by which time the facility will created an estimated 800 new jobs, P&W says.
The site will give P&W lower-cost manufacturing capacity and allow it to bring some supplier work in-house and incorporate more automation into production, Raytheon chief executive Greg Hayes says on 27 October.