Pratt & Whitney delivered more large commercial aircraft engines in the third quarter of 2022 than in any period since early 2020, powering the engine maker to a $316 million quarterly operating profit, up 69% year on year.
An improving commercial aerospace market also benefited sister company Collins Aerospace, pushing its third-quarter operating profit up 29% year on year to $616 million.
Raytheon Technologies, parent of P&W and Collins, reported the results on 25 October, with Raytheon chief executive Greg Hayes citing "continued recovery in the commercial aerospace market".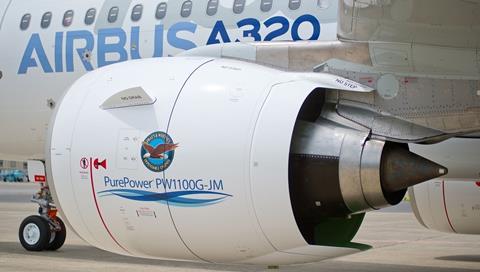 In the three months ended 30 September, P&W delivered 192 large commercial engines, a category including the PW1000G-series geared turbofans that power Airbus A320neos, A220s and Embraer E-Jet E2s.
By comparison, P&W shipped 177 large commercial engines in the previous quarter, and 165 in the third quarter of 2021. Its third-quarter 2022 large engine delivery total marks a high since the first quarter of 2020, just as the pandemic struck, when P&W handed over 211 powerplants.
The Connecticut engine maker has been working to boost production and deliveries to meet demand from Airbus and Boeing.
Additionally, P&W operating unit Pratt & Whitney Canada, whose products include turboprops and business jet turbofans, delivered 509 engines in the third quarter, up from 475 in the same period of 2021.
Getting more engines out the door helped P&W log $5.4 billion in third-quarter sales, up 14% year on year. Its commercial engine and equipment sales increased 26% year on year, while commercial aviation aftermarket sales jumped 23%, Raytheon reports.
Aircraft systems manufacturer Collins made a $616 million third-quarter operating profit amid an 11% year-on-year sales jump, to $5.1 billion. Commercial aftermarket sales increased 25%, and commercial equipment sales rose 16%, year on year.
"The increase in commercial sales was driven primarily by the recovery of commercial air traffic, which has resulted in higher flight hours, aircraft fleet utilisation and narrowbody deliveries," Raytheon says.