Pratt & Whitney Canada has implemented more layoffs in response to the troubled state of aerospace industry.
The company says on 14 October that it is introducing "an involuntary separation programme for our salaried workforce", P&WC says in a statement.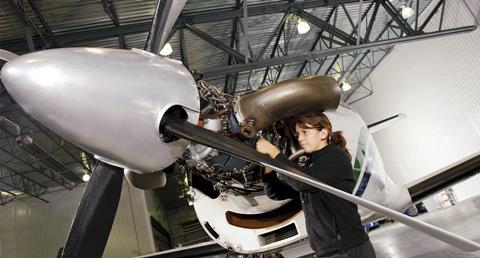 The engine maker declines to provide details, such as how many staff are being let go.
"Out of respect for the impacted employees who are being informed today, we are not providing any additional information at this time," P&WC says.
But a report from French-language news outlet Le Journal de Montreal puts the number of layoffs at 250.
P&WC says the workers being let go are among 15,000 staff cuts announced by P&WC parent Raytheon several weeks ago.
The latest cuts follow news in May that P&WC was reducing its staff by 343 that month.
"Pratt & Whitney continues to experience and forecast reduced commercial business due to Covid-19. This has forced us to take further actions to align with current and future business demand in an evolving environment," P&WC says in a statement. "These actions are consistent with steps taken by our customers and competitors."
"Taking actions to resize our workforce today, while managing our cost structure and continuing to invest in new programmes, positions Pratt & Whitney for the long term and ensures a strong future for the company, our employees, customers and share owners," P&WC says.