Raytheon Technologies, its subsidiary Pratt & Whitney and several P&W suppliers are the target of a new class-action lawsuit stemming from an alleged plot by those companies to manipulate labour markets.
In December 2021, the US Department of Justice indicted executives who apparently worked at P&W and several of the same suppliers, charging them for the alleged conspiracy.
The US government said the executives agreed not to "poach" each other's aerospace engineers, which had the effect of reducing costs by restricting the ability of those employees to find new jobs, and at higher pay.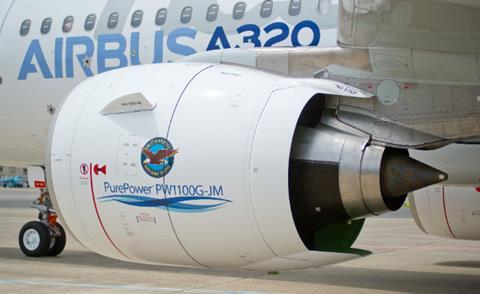 The government's case remains ongoing.
On 7 January, attorneys filed a class-action suit against Raytheon, P&W and four of its suppliers: Belcan, Cyient, Parametric Solutions and Agilis Engineering. Other defendants include employees of those companies.
"The no-poach agreements were comprised of multiple overlapping recruiting restrictions, all of which worked together to limit competition among the defendants for skilled aerospace workers," says the suit, filed in US District Court for the District of Connecticut.
Raytheon declines to comment. Its P&W subisidiary's primary product is the PW1000G line of geared turbofans, which power jets including Airbus A320neos, A220s and Embraer E-Jets E2.
"Defendants eliminated outside opportunities and stripped skilled aerospace workers of any bargaining power," the class-action suit adds. "Without the no-poach agreements, defendants would have been incentivised to pay their employees higher wages to prevent them from seeking or accepting competing opportunities."
Attorneys filed the civil suit on behalf of an unnamed former design engineer at aerospace company Quest Global Services. That person had worked on P&W projects, the suit says.
"Thousands" more employees at Raytheon, P&W and the suppliers could be eligible to join the class, it adds. The suit seeks unspecified damages.
The DOJ indicted charged that six executives conspired between 2011 and 2019 to "suppress competition by allocating employees in the aerospace industry," a violation of anti-trust law.
Those executives agreed "to restrict the hiring and recruiting of engineers and other skilled-labour employees", the indictment said.
The DOJ did not charge companies, but individuals. Among them is Mahesh Patel, who, according to various sources, had been an outsourcing executive at P&W. The other indicted executives worked at Belcan, Cyient, Parametric and Quest, according to related court papers and LinkedIn.com.