Rolls-Royce has begun a second phase of testing on a new low-emission combustion system that will eventually equip its next-generation UltraFan widebody engine.
Designed to lower emissions of nitrous oxide (NOx) and particulates, the Advanced Low Emissions Combustion System (ALECSys) demonstrator engine, a modified Trent 1000, has resumed ground runs at the manufacturer's Derby, UK site.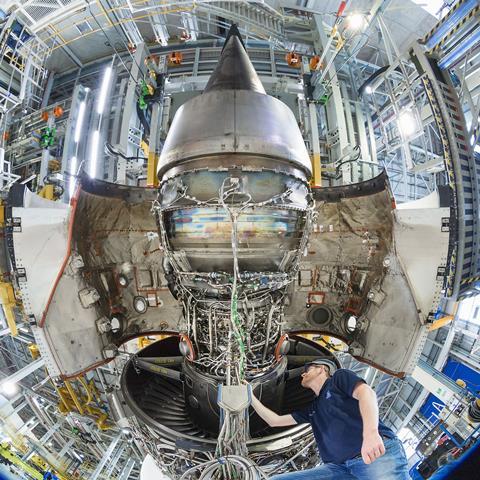 A previous test round was conducted from 2018 and the latest phase is designed to focus on validating emissions performance, engine control system software and functional performance, says Rolls-Royce.
ALECSys improves the pre-mixing of fuel and air prior to combustion, delivering a more complete burn of the fuel.
Rolls-Royce has started building the first parts for its gearbox-equipped UltraFan demonstrator, which will begin ground testing next year.
Entry into service of that engine is planned around the turn of the decade, says Rolls-Royce.