Hybrid-propulsion start-up VerdeGo Aero has raised $12 million in Series A funding, led by Raytheon Technologies' RTX Ventures.
Other investors include DiamondStream Partners, Seyer Industries, Avfuel Technology Initiatives Corporation, Standish Spring Investments, The Hatter Angel Network at Stetson University, and Welojets, the Daytona, Florida-based company said on 27 July.
The financial infusion will help the company "accelerate development of its hybrid-electric technologies for aerospace propulsion". VerdeGo is developing hybrid-electric powerplants for future aircraft.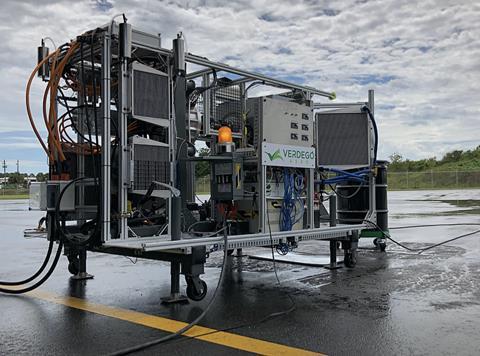 "Electrification of aircraft enables new aircraft designs and new mission types that are only possible by leveraging the responsiveness, light weight and adaptability of electric motors," Pat Anderson, co-founder and chief technology officer of VerdeGo, says. "However, most commercial and military missions require performance and endurance that go far beyond the capabilities of battery technologies."
"VerdeGo's hybrid systems create an efficient method for combining sustainable liquid fuels and electrification to get the best of both worlds," he adds.
The investment will allow VerdeGo to collaborate with Raytheon's Pratt & Whitney on engine development, certification and global powerplant support, VerdeGo says. Avfuel Technology Initiatives Corporation will provide sustainable aviation fuel for the VerdeGo systems.
"A major focus of the Series A financing is growth of VerdeGo's technical and commercial teams, with emphasis on electrical engineering, power electronics and systems integration," the company says.
The start-up, founded in 2017, says it is developing its third-generation full-scale hybrid-electric powerplant hardware. VerdeGo has "already delivered pre-production powerplants for non-certified flight-test operations".