French aerospace supplier Safran has increased its guidance for deliveries of CFM International Leap-series engines in 2021, citing a stronger recovery than previously forecast, alongside higher demand for spare powerplants.
Speaking on a third-quarter results call on 29 October, chief executive Olivier Andries said that it now expects to hand over around 900 Leap engines this year, up from its previous guidance of "800-plus".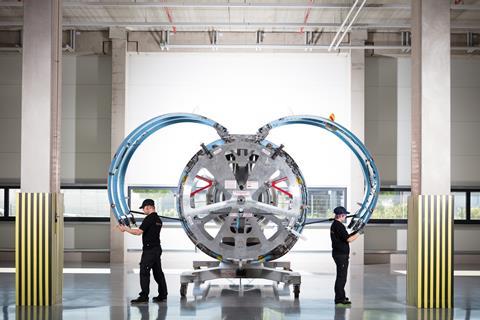 Andries says that when the original figure was disclosed the company, which is a joint-venture partner in CFM alongside GE Aviation, had "some cautiousness" over the pace of the airline industry's recovery from the coronavirus downturn.
But an improved outlook, combined with spare engine demand "has led us to guide on 900 deliveries", he says.
Safran says it is too early to release likely production rates for next year, although Airbus has indicated it is looking to take A320neo output – on which the Leap-1A holds a 59% share – to 65 aircraft per month by the summer of 2023.
Andries also cautions on the challenges the group faces from a "fragile" supply chain as it strives to meet the forthcoming ramp up in production at Airbus and Boeing.
He points to "concerns about human resources" where there is a "struggle to recruit the people we need", with that issue "even more acute in the USA".
In addition, there are "tensions in raw material availability", citing chemicals and metals such as aluminium as particular pinch-points.
"These are specific concerns that we will have to address because they are a challenge for the ramp-up… across the supply chain widely," he says.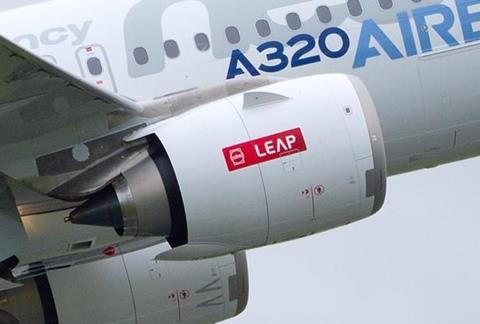 While Andries discloses that Safran's interiors business had an issue with late deliveries for the A220 programme, he says the company "fully recovered the situation during the summer". It has no current issues with the timeliness or quality of deliveries to either Airbus or Boeing, he adds.
Break-even for the interiors operation, which has struggled for some time, is anticipated "in the very last weeks of this year", he says.
Safran also expects a strong final quarter of the year from its aerospace propulsion aftermarket business as MRO shops restock inventory ahead of a year-end price increase.
"We are seeing a big inflow of orders for November – we know it is going to be a strong month," Andries says.
That is in part due to the relatively low number of aircraft retirements this year, limiting the availability of used inventory. Just 77 jets with second-generation CFM56 engines have been scrapped so far in 2021.
"No big aircraft retirements means no big inflow of used parts," he says, describing airlines as being in "wait-and-see mode" with regard to their future fleet needs.