French aerospace giant Safran saw glimmers of recovery in the first quarter but a stalled air traffic revival amid fresh lockdowns led to sales "weakness" during the period.
In particular, Safran points to improved flight hours of CFM International CFM56 and Leap engines in China and the USA during the first months of the year as a positive indicator.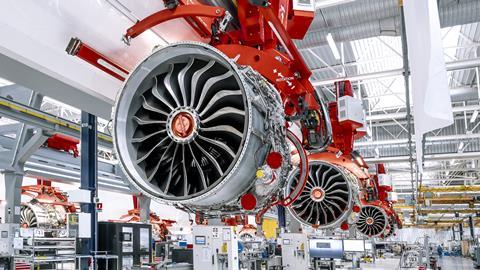 As of 25 April, weekly CFM56 fleet cycles were down 46% compared with the same period in 2019, improving from a reduction of 61% at 14 February 2021. Weekly Leap fleet cycles were up 56% compared with 2019, improving from a fall of 29% at 14 February.
However, due to weak traffic in Europe and elsewhere in Asia, "uncertainties remain on the expected recovery in narrowbody capacity from [the second quarter]," Safran adds.
"The weakness in [first-quarter] sales reflects, beyond comparison basis, the traffic deterioration in January and February while March showed signs of improvement," says chief executive Olivier Andries.
Deliveries of Leap engines – which Safran builds in partnership with GE Aviation, through the CFM venture – fell to 188 units from 272 in the first three months of 2020. Shipments of CFM56s stood at 26 units against 54 a year earlier.
The Leap backlog of more than 9,200 engines amounted to a drop of almost 6,000 against the 15,065 listed at the same point last year.
Revenue in the propulsion segment fell by 37.5% year on year, to €1.5 billion, from €2.4 billion a year earlier, principally due to the lower narrowbody engine deliveries. Shipments of M88 engines for the Dassault Rafale fighter inched up to 15 units, from 10 a year earlier.
Sales in the aircraft interiors division also fell heavily year on year, more than halving to €313 million, on lower volumes across the Airbus A320 and A350 and Boeing 787 programmes. Seat deliveries also dropped.
Services revenue across all three divisions – propulsion, interiors, and aircraft equipment – fell by an average of 44% year on year. First-quarter group revenue stood at €3.3 billion, a decline of 40%, or €2 billion.