Vietnamese carriers VietJet Air and Bamboo Airways have both signed agreements with Safran, during a visit by the country's prime minister to France.
Bamboo and Safran entered a memorandum of understanding worth a potential €2 billion ($2.3 billion) related to engines for 50 Airbus A321neos and thirty Boeing 787-9s that the carrier has on order.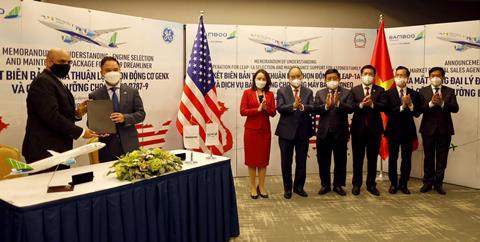 The carrier's 12 in-service A320neo family jets are powered by CFM International's LEAP-1A engines – CFM is a joint venture between Safran and GE Aviation.
Bamboo will also look at Safran interiors for its cabins.
Separately, Safran and VietJet signed what they call a "comprehensive strategic partnership" that builds on their existing relationship involving CFM engines, which they value at $10 billion.
"Building on both sides' existing cooperation in aircraft engine and engine services through CFM International worth approximately US$10 billion, Vietjet and Safran will extend their cooperation to a long-term strategic partnership to cover more aircraft engine deals and a variety of other aspects such as aircraft seats and interiors supply," say the pair.
Both agreements were signed during a visit by prime minister Pham Minh Chinh to Europe. When the Vietnamese prime minister travels abroad, it is customary for prominent Vietnamese businesses to sign various agreements in his presence.
The agreements follow another VietJet agreement signed with Rolls-Royce on 31 October, involving a $400 million deal for Trent 700 engines, for the airline's "coming widebody fleet."
The Trent 700 is the powerplant for the Airbus A330, a type that VietJet does not operate nor have on order. When contacted, VietJet was unable to provide clarity about its widebody plans.