US discounter Spirit Airlines is sticking with Pratt & Whitney geared turbofans to power at least another 100 incoming Airbus A320neo-family jets.
The Miramar, Florida-based airline chose PW1100Gs for 100 jets on firm order with Airbus, and for another 50 aircraft for which it holds options to purchase, P&W says on 25 October.
Those aircraft are scheduled for delivery starting in 2023.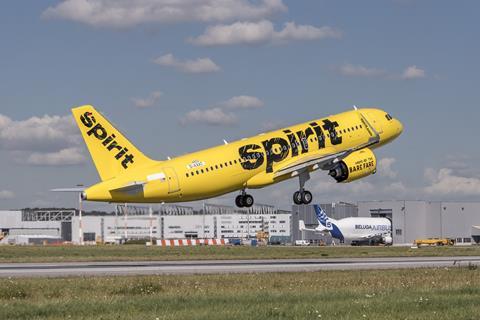 Spirit has also agreed to have the engines maintained under the Hartford engine maker's long-term maintenance programme, called EngineWise Comprehensive, says P&W.
Airbus also sells A320neo-family jets with CFM International Leap-1A powerplants.
Spirit has been a long-term P&W engine customer.
The airline's all-Airbus-narrowbody fleet includes 120 first-generation A320ceos powered by V2500s, made by International Aero Engines, of which P&W is part owner. Spirit also operates 42 PW1100G-powered A320neos, according to Cirium data.
Spirit has a combined 162 A320neo-family jets on order with Airbus – all of which will have PW1100Gs.