Canada's civil aviation regulator has granted a type certificate to Pratt & Whitney Canada's (P&WC) PW812GA, the engine that will power Gulfstream's in-development G400 large-cabin business jet.
The Canadian engine maker, a division of Connecticut-based Pratt & Whitney, confirms the news on 14 September.
"The PW812GA showed exceptional performance during testing with more than 3,400h of engine testing, including 260h of flight testing," P&WC says.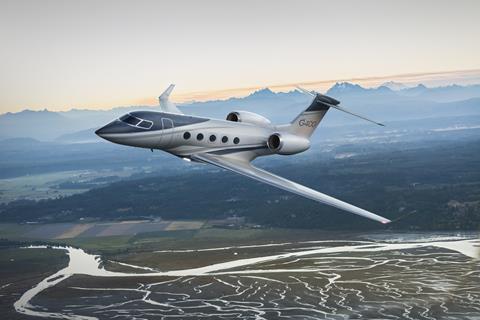 Regulator Transport Canada did not immediately confirm the type certificate with FlightGlobal.
Gulfstream's G400 will have twin PW812GAs, each cranking out 13,496lb (60kN) of thrust, according to the Savannah aircraft manufacturer.
PW812Gs are a variant of P&WC's baseline PW800 powerplant. Other variants power Gulfstream's G500 and G600 business jets, which are in the same aircraft family as the G400. The PW800 series also shares technology with P&W's PW1000G geared turbofan, which powers commercial jets including Airbus A320neos.
Gulfstream revealed development of the G400, a 12-passenger jet with advertised 4,200nm (7,778km) of range, in October 2021.
It has priced the jet at $34.5 million and aims for it to enter service in 2025.
The G400 will fill a gap between Gulfstream's 19-passenger G500 and its super-midsize 10-passenger G280.
"We worked closely with Transport Canada to create an efficient and thorough certification process that successfully led us to this point," P&WC president Maria Della Posta says. "We are gratified by the steady progress the PW800 engine family has achieved based on its ability to deliver a new level of performance and efficiency."