An electric system fire significantly damaged a prototype of Israeli company Eviation Aircraft's in-development, all-electric Alice aircraft at an Arizona airport on 22 January.
The Prescott Regional airport confirms the nine-passenger Alice prototype was damaged by a fire that started at about 18:30 local time.
Though the extent of the damage remains unknown, video of the fire posted online by local media outlet Prescott eNews suggests the prototype suffered extensively.
The video shows firefighters dousing the smoking prototype with water or fire extinguishing agent.
"Eviation Aircraft experienced a fire incident during system testing of one of its aircraft at the Prescott Regional airport," the company says in a statement. The incident "is believed to have been caused by a ground-based battery system which was being utilised during rigorous testing of its all-electric airplane".
Eviation has "launched a full investigation" into the incident in concert with the Prescott Fire Department, which was on hand for the test and "quickly extinguished the fire", Eviation says.
Prescott Regional airport director Robin Sobotta confirms the fire damage on the aircraft.
Eviation, based in Kadima-Zoran, Israel, did not respond immediately to a request for more information, and the potential impact of the fire on the Alice development programme remains unknown.
Eviation had aimed to achieve the first Alice flight this year and certification in 2022.
The company assembled the first Alice prototype in northwest France. It shipped a prototype to Prescott for flight testing. Eviation has offices in Prescott, which is about 100 miles (160km) north of Phoenix.
Eviation sees an opportunity for Alice to serve small cities that currently lack air service. The aircraft has three pusher propellers – one behind its tail and one on each wingtip – and is designed to carry up to nine passengers and two pilots. It is designed to have a 565nm (1,050km) range at 260kt (482km/h)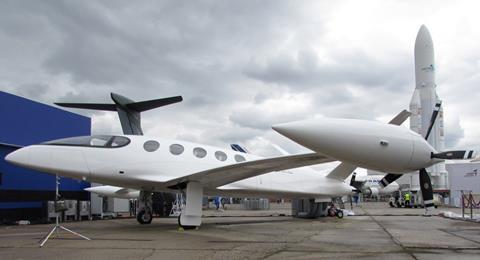 The company offers two electric-propulsion system options for Alice: US company Magnix's 375hp (280kW) Magni250s, or 349hp motors made by German company Siemens. The motors will be powered by a 900kWh lithium-ion battery pack, the company has said.
Eviation scored a major win last June when US regional carrier Cape Air became Alice's launch customer with "a "double digit purchase option".
Hyannis, Massachusetts-based Cape Air, which operates about 80 Cessna 402Cs on short-distance routes, did not immediately respond to a request for comment about the Alice fire.