Still some 14 months away from its next gathering in London's Docklands, the UK's tri-service DSEI exhibition is eyeing a major expansion to its aerospace sector footprint.
Targeting a 300% increase in such business, organiser Clarion Events Defence and Security has appointed former Royal Air Force (RAF) Air Vice-Marshal Gary Waterfall to champion its aviation growth. As of early July, 75% of the Aerospace Zone and Space Hub floor area had been booked for the 14-17 September 2021 event, the company says.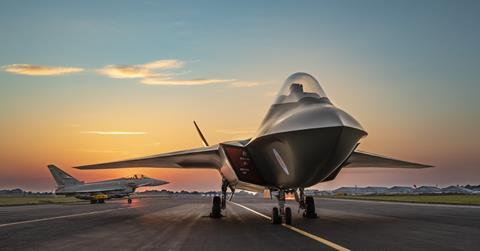 With previous appointments having included being force commander of the RAF's BAE Systems Harriers and Eurofighter Typhoons, Waterfall's final role with the service until late 2019 was as deputy chief of joint operations at the UK's Permanent Joint Headquarters.
"One of my aims is to be not only looking at the air [sector], but to look broader as well, to make sure that we are getting the message out from a joint defence perspective," Waterfall tells FlightGlobal of his senior air advisor role with DSEI.
"There is a real recognition of the need to grow into the aerospace market," he says, noting: "air is the joint glue that holds defence together, along with space."
One of the main focus areas for next year's show is likely to be around the UK's Team Tempest future combat air system programme – Italy's planned involvement was formalised at DSEI in September 2019. The future event will again be "an opportunity to showcase [it] on the global stage", Waterfall says.
There has been strong early engagement with the UK armed services regarding supporting the show, and he notes: "We are going out and engaging with the senior level of defence and finding out what the customer really wants." Clarion also is aiming to increase the number of international delegations next time.
One influencing factor will be the UK Ministry of Defence's pending Integrated Review, but Waterfall says he has been encouraged by the services' joint approach. Rather than revisit the inter-service rivalries of the past in pursuit of funding, he notes: "They all realise that they've got to pull together."
DSEI's home venue – the ExCel Centre – for now remains dedicated as a back-up NHS Nightingale Hospital, in case of an escalation of coronavirus cases in the capital. However, 90% of the venue has already been returned to its original state, and commercial events will resume from 1 October.
"We can be agile enough to ensure that whatever procedures need to be put in place will be there," Waterfall says of Clarion's plans to ensure a "safe and healthy" event in September 2021.