The UK's Tempest future combat air system (FCAS) project has gained fresh momentum, with the nation's industry having entered into formal discussions with Italian and Swedish counterparts ahead of launching development activities.
On 22 July, the UK announced the recent start of "trilateral industry discussions to strengthen collaboration between the three nations, as they develop world-leading future combat air capability".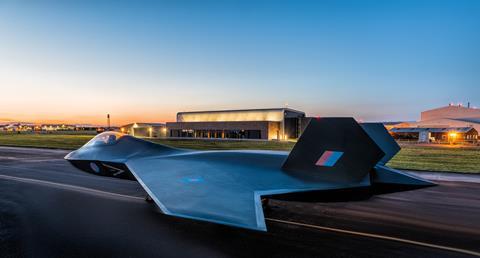 Prior to this point, bilateral talks had been conducted between the UK's Team Tempest and each of its prospective international partners.
The development means that the lead nation's industrial framework – involving BAE Systems, Leonardo UK, MBDA UK and Rolls-Royce – has been replicated in both of the other nations.
Rome's involvement comprises Avio Aero, Elettronica, Leonardo Italy and MBDA Italia, while Stockholm is represented by GKN Aerospace Sweden and Saab.
"Together, the companies will assess common routes to future combat air capability using their know-how, expertise and technology development activities across current and future combat air systems," the partners say.
"This framework is another step on the path towards a full agreement between these national industries to formalise areas of joint collaboration on future combat air systems development," they add. Team Tempest is on track to deliver an outline business case proposal to the UK Ministry of Defence before year-end.
"We've made good progress with Saab and Leonardo in identifying shared goals and expertise and through this new framework, we can build on this collaboration to unlock the huge potential across our three nations," says BAE chief executive Charles Woodburn.
Leonardo chief executive Alessandro Profumo believes the trilateral effort "Will secure enormous economic benefits and vast industrial and technological progress for Italy and our partners. Together, we share an understanding that if we get this right now, our respective aerospace and defence industries will thrive for a generation."
Pointing to the strong progress made since the Italian government signed a memorandum of understanding related to the project in September 2019, Profumo says initial industry discussions have reflected "an open, frank and ambitious approach" to co-operation.
Saab on 20 July announced that it is making a £50 million ($63 million) investment in support of the programme, including opening a UK FCAS hub. "Saab is committed in building a long-term relationship with the UK," notes chief executive Micael Johansson.
"I am convinced that the partnership within the future combat air system is the catalyst which will bring our nations a capable industry, together," Swedish defence minister Peter Hultqvist told an FIA Connect webcast on 22 July.
Michael Christie, director of FCAS at BAE Systems Air, describes the latest industry development as the point "Where we make the preparation for a major acquisition programme, to create a flexible, affordable system of systems, and one that is globally competitive.
"We want a world-leading programme here – we're not just going to be an also-ran," Christie says. "The technology and the capabilities we all bring as partners is going to be a key part of that."