The UK has strengthened the industrial grouping behind its Tempest future combat air system (FCAS) programme, with new agreements reached with seven companies.
Detailed on 20 July, the development concerns Bombardier Belfast, Collins Aerospace Systems, GE Aviation UK, GKN Aerospace, Martin-Baker, Qinetiq and Thales UK.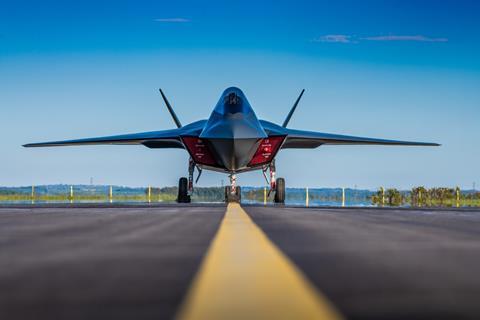 The selected companies will support the work of Team Tempest – a collaboration between airframer BAE Systems and engine maker Rolls-Royce, plus the UK arms of radar and electronic warfare specialist Leonardo and weapons producer MBDA.
"We are seeking opportunities to widen the Team Tempest project and bring in the very best of UK capability and expertise, from both inside and outside of defence," says Dave Holmes, manufacturing director for BAE Systems Air. "Tempest is becoming a truly national endeavor," he adds.
"Collectively, the [seven] companies will look to support more than 60 technology demonstration activities which are currently under way," BAE says.
The new arrangements will draw on Bombardier Belfast's experience in manufacturing complex composite aerostructures, while Collins Aerospace Systems is to provide "advanced actuation capabilities". GE Aviation UK's role will focus on supporting power and avionics and human-machine interface needs, with GKN Aerospace involved in the development of "materials, processes and manufacturing technologies".
Martin-Baker's role will centre on ejection seats, Qinetiq is to support test and evaluation activities, and Thales UK will support development of the future air system's underpinning "digital ecosystem".
Meanwhile, Saab also will establish a new UK FCAS hub in support of the effort, as part of a £50 million ($63 million) investment linked to Sweden's involvement in the Tempest programme.
Stockholm in July 2019 signed a memorandum of understanding with the UK to co-operate on the activity.
"Combat Air is a key component of Sweden's defence policy and it is defined as a national security interest. Saab's FCAS strategy ensures that the technology is in place to support a long term future air capability and also to support continuous upgrades of Gripen E for decades to come," says chief executive Micael Johansson.
"Saab took the decision to create a new FCAS centre so that we can further develop the close working relationship with the other FCAS industrial partners and the UK Ministry of Defence. This emphasises the importance of both FCAS and the United Kingdom to Saab's future."
In a half-year results statement issued on 17 July, Saab indicated that during the period its partnership with the UK had "intensified and new studies were conducted".