Wizz Air Abu Dhabi can mimic the fleet growth seen at the carrier's European operation and reach 100 aircraft in 15 years' time, according to chief executive Jozsef Varadi.
"What we can achieve in Abu Dhabi is probably comparable with what we have been able to achieve in Europe," Varadi states during an FIA Connect session today. "If you look at Wizz Air Hungary, which is the European airline of the group, we've got into a 100-aircraft operation over 15 years.
"I think this is something we will be looking at for Abu Dhabi as well."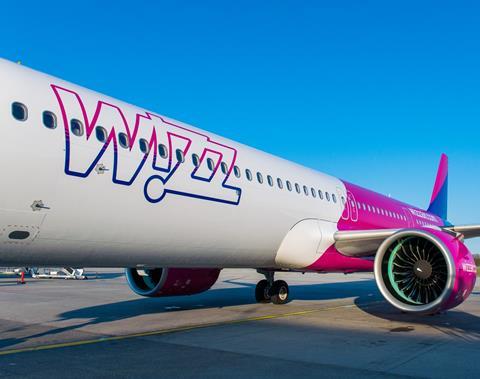 That growth will be driven by the stimulation of new markets in the Middle Eastern city, Varadi explains, rather than attracting passengers who would otherwise have flown with other operators.
"Our model is not to take passengers away from existing incumbent carriers; our model is to create a market for ourselves," he states. "We create a market ourselves by stimulating the market, taking the… barrier as low as possible for people to jump over and get into the franchise of flying."
Wizz Air's experience in stimulating new markets is reflected in Europe, where "essentially legacy carriers today are flying the same amount of seats and capacity that they flew 15 years ago when we started", Varadi notes, despite the budget carrier's expansion.
His confidence in Wizz Air Abu Dhabi's potential is based on several fundamentals that could underpin rapid expansion of air service to and from the UAE's capital city.
"You stand in Abu Dhabi… and within a radius of seven hours you have five billion people," Varadi says. "That gives you emense opportunities to exploit in the future."
The diversification of Abu Dhabi's economy away from carbon is a key factor in generating more air travel demand, he adds.
"It is a scalable market, it is a growing economy," Varadi states.
Wizz Air Abu Dhabi is to focus initially on the eastern Mediterranean and Caucasus when it commences services in October.
It will station two Airbus A321neos in Abu Dhabi, but this fleet will be expanded to six aircraft in the first six months.
As Wizz Air works on the launch of its new operation, rival budget operator Air Arabia Abu Dhabi completed its first flight in mid-July.
The low-cost carrier has been launched as a joint venture between Sharjah-based Air Arabia and Etihad Airways.