Incumbents Bristow Helicopters and 2Excel Aviation are to continue providing helicopter search and rescue and aerial surveillance services to the UK Maritime & Coastguard Agency following the award of a 10-year contract.
Worth a total £1.6 billion ($1.9 billion), the UKSAR2G contract awarded to Bristow will see a shake-up of the rotorcraft fleet, which currently comprise 10 Leonardo Helicopters AW189 super-medium-twins and 10 Sikorsky S-92s from the same number of bases.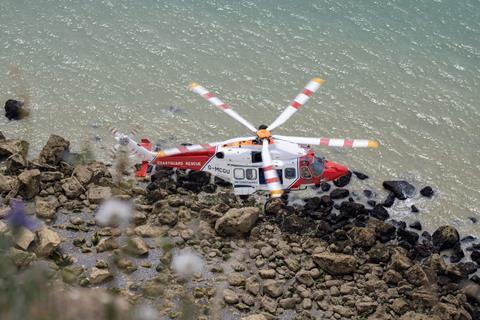 However, under SAR2G Bristow will provide nine AW189s, three S-92s and six intermediate-twin AW139s.
2Excel, which partnered with Bristow for the bid, will operate six Beechcraft King Airs, including the 350, 350ER and the 200, based at Doncaster, Prestwick and Newquay airports. It currently flies a pair of the twin-turboprop type from Doncaster.
A deployable Schiebel Camcopter S-100 rotary-wing unmanned air vehicle will also be used on the contract.
In addition, Bristow will add two seasonal bases in Carlisle and Fort William, operating 12 hours a day from April to September, to "serve areas around two of the busiest locations for summer tourism" – the English Lake District and Scottish Highlands.
Bristow is the lead bidder, while partner 2Excel is supplying fixed-wing services and Nova Systems is the consortium's "innovation partner".
The MCA had tendered four lots under the procurement: lots 1 and 2, respectively short- and long-range helicopter SAR, fixed-wing surveillance under lot 3, and a combined lot 4 proposal, which the Bristow team won.
"We are very pleased with the MCA's trust in Bristow to continue to provide safe and reliable search and rescue services with our crews to help save lives throughout the United Kingdom," says Bristow chief executive Chris Bradshaw.
"Through this new, innovative contract, Bristow and our partners will increase efficiencies and innovations as well as establish additional seasonal bases to further expand our service."
Andy Offer, co-founder and director of 2Excel Aviation, adds: "This contract builds on the existing capabilities we have delivered to the MCA over the past few years with our fixed-wing aircraft packed with state-of-the-art integrated sensors."
Bristow and its partners will "work to deliver greater innovation in the provision of search and rescue services" during the course of the contract, it says.
In addition, Bristow will establish a SAR helicopter simulation training facility at Solent airport near Portsmouth on the south coast of England, next to the HM Coastguard Training Facility.
Contract transition will begin on 30 September 2024, running until 31 December 2026.
Bristow has held the current UK SAR contract since 2015 when the service was transferred from Royal Air Force and Royal Navy crews. It faced competition from CHC Helicopter, which was teamed with Israel's Rafael, for the UKSAR2G deal.