Boeing has secured a commitment from freight airline Cargolux to order 777-8 Freighters, which the Luxembourg-based carrier intends to use as 747-400 replacements.
The US aircraft manufacturer disclosed the deal, which falls short of a firm order, on 21 July during the Farnborough air show.
Boeing senior vice-president of commercial sales and marketing Ihssane Mounir says he hopes to convert the commitment into a firm order in the coming weeks.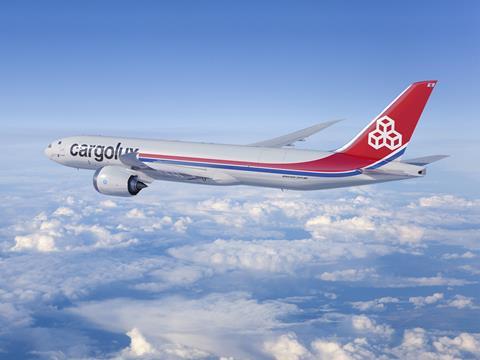 "We will be working over the next several weeks to do the documentation for the commitment, and to wrap it up," Mounir says.
Boeing says Cargolux "selected the 777-8 Freighter as the preferred solution to replace its 747-400 fleet".
Neither company has disclosed how many of Boeing's in-development 777-8F Cargolux might purchase. The airline now operates 12 747-400Fs, according to Cirium data.
"We will work with them to define how many, and when," Mounir says. "I expect in the next several weeks we will firm that up."
Boeing launched the freighter 777-8F development programme in January, with first delivery scheduled for 2027.
The commitment announcement caps a series of orders secured by Boeing during what has been a busy air show for the airframer.
During the show, Boeing landed orders for 100 737 Max 10s from Delta Air Lines, 25 737 Max 10s from Qatar Airways, 30 737 Max 8-200s from 777 Partners, 12 737 Max 8s from Aviation Capital Group and five 787-9s from AerCap.