A Delta Air Lines order for 100 Boeing 737 Max 10s was the biggest commercial aircraft commitment announced on the first day of this year's Farnborough air show.
The US carrier placed a firm order for 100 CFM Leap-1B powered Max 10s and took options on 30 more of the type.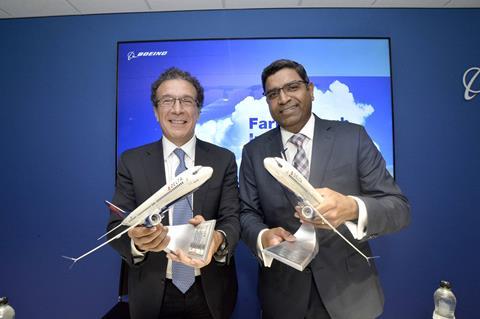 Boeing also held a customer signing event with Japanese carrier All Nippon Airways on the first day of the air show, to mark the recent firming up of 30 737 Max 8s and conversion of two of its 777-9 passenger aircraft to freighters. ANA had formally announced those deals on 11 July.
The only other commercial aircraft order announcement today was a letter of intent for 36 ATR turboprops from Japanese company Feel Air. ATR says the business intends to use a mixture of 42-600 and 72-600 aircraft – including the short take-off and landing variant, the 42-600S – for domestic operations.
Airbus separately disclosed that Angolan carrier TAAG is to become an A220 operator, having leased six twinjets from US lessor Air Lease to replace its Boeing 737-700s.
It means there were 100 firm orders, 30 options and 36 tentative commitments on the first day of the show. By contrast, there were more than 400 aircraft order commitment announcements on the first day of the Farnborough air show in 2018, the last time the event was held.