Deutsche Aircraft has seen no "adverse reaction" from potential customers to the recently announced delay to service entry for its D328eco twin-turboprop.
The German manufacturer revealed in June that it had pushed back service entry of the D328eco until the second half of 2026, from a previous target of 2025.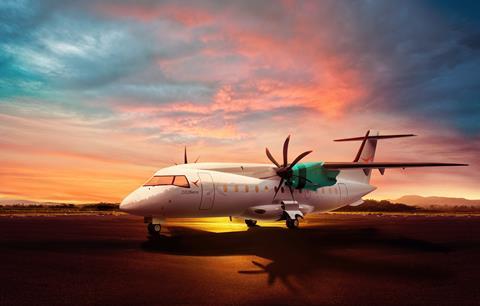 Speaking at a Farnborough air show briefing on 19 July, acting chief commercial officer Nico Buchholz said the hiatus was due to feedback from its customer advisory panel and an analysis of the aircraft's supply chain.
"When we looked at the programme, there were certain things that didn't add up, particularly on the supply chain," he says.
"There were two suppliers who were definitely behind and were on a critical path that was not recoverable."
Buchholz – a former Airbus and Lufthansa executive – says there has been "no adverse reaction" from customers.
Changes incorporated as part of the update include how the lavatory system is integrated in the cabin and consideration whether to include avionics provider Garmin's emergency descent Autoland system in the baseline aircraft.
"[The delay] gives us time to understand with the airlines what should we put as standard equipment," says Buchholz.
He hopes to sign the first orders for the D328eco – a stretched and modernised Dornier 328 turboprop – "by the end of the year".
Deutsche Aircraft has largely completed the selection of suppliers for the turborop; campaigns for the engine nacelles and the three fuselage sections are under way, which should conclude in the third and fourth quarters, respectively, says Nico Neumann, vice-president of operations and programmes.

Dominic Perry is deputy editor of Flight International but also contributes extensively to flightglobal.com. Although specialising in the coverage of the helicopter industry, he has written on most topics in aerospace – be they commercial, defence or business aviation. In addition, there has been an increasing focus on the decarbonisation of the industry and zero-emission flight initiatives.