Ethiopian Airlines has signed a tentative agreement to purchase two Dash 8-400 Freighter – Large Cargo Door (F-LCD) conversion kits from De Havilland Canada, with two options.
Announcing the deal at the Farnborough air show on 20 July, De Havilland Canada notes that the two parties are working to finalise the agreement.
Ethiopian Airlines chief executive Mesfin Tasew says that once the deal is firmed, the carrier expects to complete the turboprop conversions over a period of two years.
"The Dash 8-400 will help us to expand the regional cargo business," Tasew tells FlightGlobal. "We bring a lot of cargo on widebody aircraft to Addis Ababa… the Dash 8-400 will distribute that cargo to regional destinations."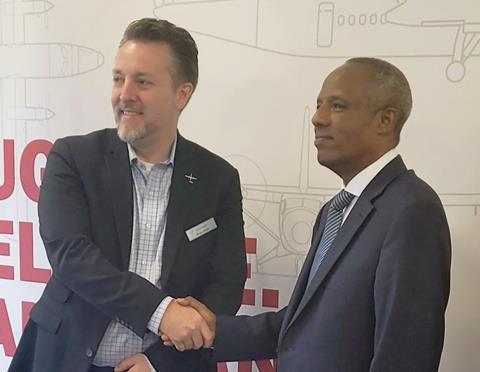 The turboprops will be the first Dash 8-400 freighters operated by Ethiopian, which will also be the launch customer for the F-LCD kit.
As part of the agreement, Ethiopian will undertake the conversion work at its Addis Ababa MRO facility using the supplied kit, while also offering the conversion to other airlines as an authorised De Havilliand Canada service facility.
De Havilland Canada rolled out three new options for converting Dash 8-400s into cargo aircraft – including the F-LCD option – on 18 July at the show.
Cirium fleets data shows Ethiopian has 22 Dash 8-400s in service, with four in storage.