GE Aviation is to change its name to GE Aerospace in a move executives say reflects the company's intention to broaden its focus beyond aircraft engines.
The name change will occur when parent General Electric completes a wider restructuring, expected to be finished in early 2024.
"We are going to have a wider strategic aperture," said General Electric chief executive Lawrence Culp on 18 July. In a decade, "we may be in some businesses that we are not in today".

General Electric is also rebanding its divisions as part of a planned break-up of the long-time industrial giant. The overhaul will see GE divest its healthcare and energy businesses, leaving GE Aerospace as the remaining business. Its energy unit will be called GE Vernova and the healthcare business GE Healthcare.
As part of the changes, Culp will become chief of GE Aerospace, with the unit's current boss John Slattery taking the role of chief commercial officer.
Changing the name will help highlight that GE Aerospace "is more than what we do in commercial propulsion", says Culp, noting GE also has a strong military aviation business.
But the change also reflects an intention to expand in non-engine segments of the aerospace industry.
Specifically, Slattery says he would like to "grow exponentially" GE's aircraft systems work, now a roughly $3 billion business.
Executives decline to be more specific about the expansion plan. But they note that the company is working on several technology development projects that involve tight integration between engines and other aircraft systems.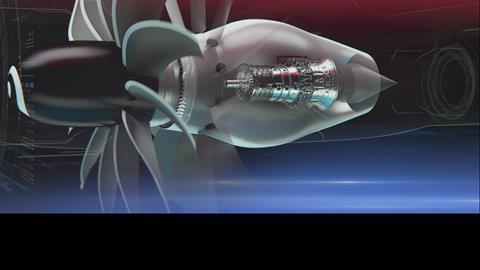 Specifically, the company's joint-venture CFM International is developing an open rotor engine, possibly for use on a new narrowbody aircraft coming to market in the 2030s.
GE is also working under a NASA contract to develop electrified aircraft propulsion systems, with a goal of service entry by 2035. As part of that effort, GE is developing a 1MW-class hybrid-electric propulsion system.