Italian carrier ITA Airways insists it is committed to establishing its brand on the international stage, even as it develops plans to leverage ownership of its predecessor operation's name.
ITA – which now says its name is pronounced as 'eeta', rather than being an abbreviation of Italia Trasporto Aereo – secured the rights to the Alitalia brand and website domain for €90 million ($92 million) on the eve of its first day of operations in October 2021.
Speaking at the Farnborough air show on 19 July, where an ITA Airways Airbus A350-900 is on the static display, chief executive Fabio Lazzerini says the airline is committed to ITA as its brand as part of a "fresh start" for the operator, while acknowledging that "we still need to make it very well known outside of Italy".
"We are investing in this. This is the new brand – it's a new airline," he states.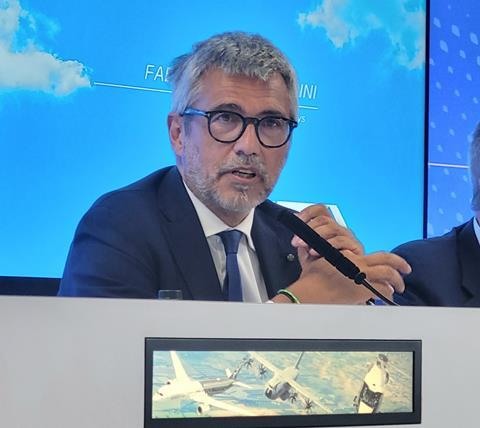 Nevertheless, while ITA's purchase of the Alitalia brand was initially for "practical reasons" because all of its launch aircraft sported its predecessor's livery – and its crew wore Alitalia clothing – Lazzerini says the carrier has bigger plans for the old name.
"We have a couple of very nice and creative ideas," he says. "It's a brand which has a value and… we think we can leverage very well the power of that brand.
"Alitalia will have a separate project later."
In the meantime, ITA's two suitors – joint bids from Lufthansa and shipping firm MSC Group, and Air France-KLM, Delta Air Lines and investment firm Certares – will see the Alitalia brand in the data room as they vie for ownership of Italy's new flag carrier.