An unmanned air vehicle (UAV) intended to eventually serve as an autonomous wingman for human fighter pilots successfully completed flight trials in the USA's southwestern desert.
The accomplishment was achieved by two production-model Kratos XQ-58A Valkyrie UAVs, the California-based defence manufacturer said on 18 July at the Farnborough Airshow in the UK.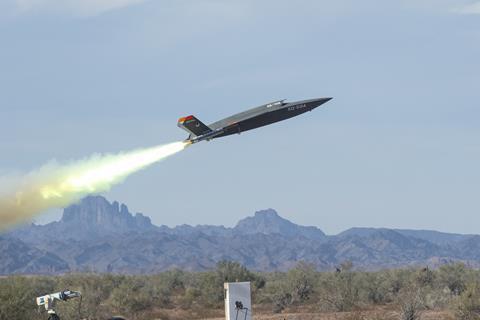 The test flights of the stealthy, unmanned Valkyries were conducted as part of the US Air Force's (USAF's) Skyborg programme, which is intended to develop autonomous flight platforms from concept to reality.
Steven Fendley, president of unmanned systems for Kratos, notes that the Skyborg programme is "charting the course" for a range of tactical applications in aviation.
"These most recent Skyborg flights, with production Valkyrie aircraft being delivered on the Skyborg contract, illustrate the benefits and utility of these uncrewed systems," Fendley says, adding that the technology will be "game-changing".
The XQ-58A was initially developed in cooperation with Air Force Research Laboratory as part of the Low Cost Attritable Strike Demonstrator programme.
Kratos describes the Valkyrie as an "affordable, high speed, tactical UAV".
The aircraft will be capable of conducting intelligence, surveillance and reconnaissance missions, as well as carrying out long-range strikes and performing escort duty for other aircraft.