Aircraft order commitments during the show passed the 300 mark with a string of new deal announcements today, almost all of which represented repeat business.
Those were again led by Boeing, which unveiled commitments from three aircraft lessors and investment firms.
The biggest of those came from investment firm 777 Partners, which signed for up to 66 Boeing 737 Max 8s.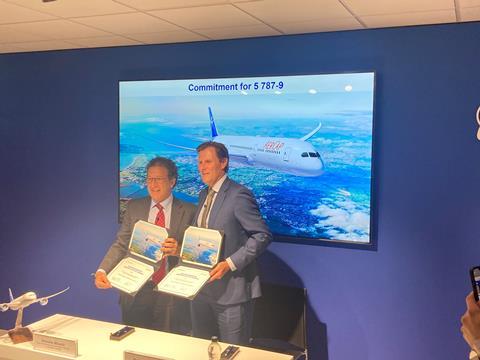 777 Partners is already a strong customer for the Max, the latest agreement being its fifth for the type. The new deal, which includes a firm order for 30 Max 8-200s, will take its backlog for the Max to as many as 134 aircraft.
"We are excited about the possibilities the Max aircraft provide our growing group of carriers to facilitate and democratise low-cost travel around the globe while respecting our commitment to sustainable flying," says 777 Partners managing partner Josh Wander.
777 Partners' aviation portfolio includes the new Australian start-up carrier Bonza, which is aiming to commence services this year using Max jets. 777 Partners also has investment interests in Canadian low-cost operator Flair Airlines.
Aviation Capital Group also signed for a dozen more Max jets, taking its orders to 34. These aircraft were formerly listed in Boeing's orders and deliveries website, attributed to an undisclosed customer.
Another lessor, AerCap, ordered five more Boeing 787s – taking its Dreamliner commitments to 125. The order is also the first, and so far only, new widebody order announced during the first two days of the show.
In other announcements, Boeing disclosed that lessor BBAM has ordered nine more 737-800 converted freighters. That takes to 40 its commitments for the type.
BBAM is also set to be the customer to take delivery of the first 737-800BCF completed at a Kelowna, Canada conversion facility operated by maintenance provider KF Aerospace.
While Airbus has so far remained unusually quiet on the order front, it did announce a follow-on commitment for a dozen A220-300s from Delta Air Lines. The US carrier, which yesterday opened the show with an order for up to 130 Boeing Max jets, now has orders for 107 A220s.
On the regional front, both ATR and Embraer announced orders at the show.
Embraer notched orders for a total of 28 aircraft and 13 options from two North American carriers. Alaska Air Group placed an order for eight E175 aircraft as well as the 13 additional options. The aircraft will fly exclusively for Alaska Airlines under a capacity purchase agreement with regional subsidiary Horizon Air. It already operates 30 E175s.
Porter Airlines meanwhile has ordered 20 of Embraer's new-generation E195-E2 aircraft. It takes the Canadian regional carrier's orders for the type to 50 firm and 50 options.
ATR secured commitments for 10 ATR 72-600s from newly formed leasing platform Abelo, which is also reaffirming a commitment for 10 short take-off and landing versions of ATR 42-600s from Elix Aviation.
Abelo was formed out of the merger of Elix with Adare Aviation Capital, disclosed in May with the aim of further investing in turboprops.
It has signed a heads-of agreement covering 10 ATR 72-600s. Deliveries will begin next year.
ATR followed an earlier tentative deal from Feel Air with an order for one ATR 42-600 from another Japanese operator, Oriental Air Bridge.