Leonardo has identified Mitsubishi Electric as its partner for the Jaguar advanced radar demonstrator project being advanced by the UK and Japan in support of their respective future manned fighter projects.
"Jaguar represents the first big building block of an international radar programme that meets the ambitions laid out by Japan and the UK as part of F-X/FCAS [Future Combat Air System] discussions," Leonardo says.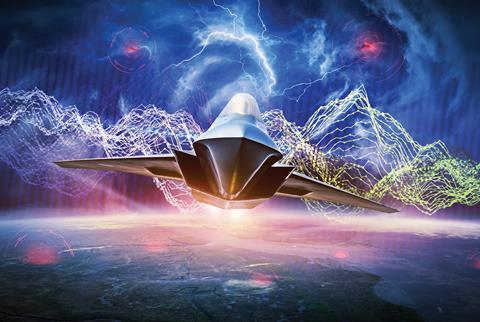 Andrew Howard, the company's director major air programmes, describes Jaguar as a "pathfinder for the wider collaboration", with work taking place at "a deep, cutting-edge engineering level".
"What we are trying to achieve with Jaguar is high-powered, miniaturisation and digitisation of the radar antenna head," he explains.
"The partners have agreed workshare and both Leonardo UK and Mitsubishi Electric have signed contracts with their respective national defence ministries in order to progress development work," Leonardo says.
Howard says the goal is to produce a multi-function RF system (MRFS), marking a "sixth-generation radar" evolution beyond the ECRS Mk2 active electronically scanned array on order for the Royal Air Force's Tranche 3 Eurofighter Typhoons.
"Our vision for MRFS is getting more power in less space with greater capability, to provide better information flows," he says.
Other key elements include what the company names ISANKE & ICS – an integrated sensing and non-kinetic effects & integrated communications system. Howard describes this as "a new layer of sensor integration" which will combine inputs from the aircraft's radar, electro-optical and infrared search and track sensors, and its defensive aids system.
"ISANKE is all of the sensors, deeply integrated across the platform through a digital backbone," Howard explains. "It is providing a better outcome to the aircrew, and allows information to be shared on and off platform."
The capability delivered by this advance will be "substantially greater than what's gone before", he says.
"What we have seen so far have been very promising results. We are getting an awful lot more radar capability than we would have done a generation ago," he notes.
Howard expects the technology to be trialled aboard the UK Tempest programme's Boeing 757-based Excalibur flying testbed in the 2026-2028 timeframe, with Japan also to conduct its own tests with the sensor.
"The pace of progress to date has been really positive. The relationship with Melco [Mitsubishi Electric] is showing that we can do it."
In December 2021 Japan and the UK signed a broader memorandum of co-operation around future combat aircraft, also including airframe and propulsion technologies. The Jaguar pact was initiated in February, but Howard says the relationship between Leonardo UK and Mitsubishi Electric dates back to 2018.

Craig Hoyle joined Flight International in 2003, and has edited the now monthly title since 2015. He has reported on the UK, European and international military aviation sector for more than 25 years, and produces our annual World Air Forces directory.
View full Profile