Norwegian regional carrier Wideroe has joined Embraer's Energia Advisory Group - the first carrier to be associated with the Brazilian airframer's sustainability initiative.
The companies plan to work together to "define and establish the real-world requirements for sustainable, emission free, and commercially viable, aviation".
Embraer last November unveiled the Energia family - four low- or zero-emission concept aircraft for the regional market - that it hopes to fly over the coming decades, including hybrid-, all-electric and hydrogen-powered models.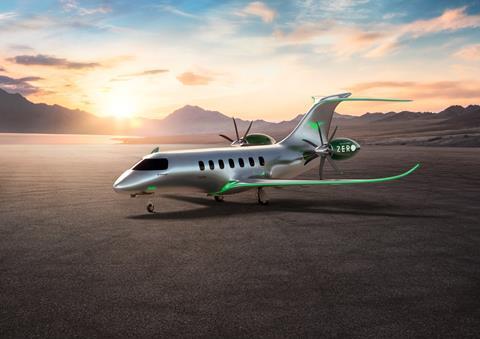 The Norwegian carrier has embarked on a series of initiatives aimed at developing new technologies, establishing a clean-sheet company, Wideroe Zero, to pursue these aircraft concepts.
"We established Wideroe Zero because we need the freedom to think afresh," says Andreas Kollbye Aks,the initative's chief executive. "Embraer's approach to sustainable aviation most closely aligns with our own, and this collaboration will get into the real-world detail, to shape the technology that will make Zero missions flight a reality."
"We want this aircraft desperately," he adds. "There is more and more pressure on us and [our customers] are more and more focused on environment, they expect this from us. It's fantastic how the industry is coming together to see this happen."
The Norwegian airline has been associated with Embraer for quite some time – it was also Embraer's global launch customer for the new-generation E190-E2 in 2018. It currently has three of the type in service.
"We're proud of our association with Wideroe, who have become a powerful voice globally in the drive for sustainable aviation," says Embraer Commercial Aviation chief executive Arjan Meijer. "Wideroe's expertise in, and commitment to, sustainable aviation is unrivalled. The experience they and subsequent group members bring to the program will be a key foundation of Energia's successful development."
Earlier this year, Wideroe linked up with Embraer and Rolls-Royce on a 12-month study for a conceptual zero-emission regional aircraft seeking to understand the propulsion and operational options for such types.
It had already joined Rolls-Royce and airframer Tecnam to develop an all-electric passenger aircraft by 2026, while also working with Embraer urban air mobility spin-out Eve on the potential operation of electric vertical take-off and landing (eVTOL) aircraft in Scandinavia.