Airbus Defence & Space is pursuing an opportunity to provide Germany with an interim maritime patrol aircraft capability, after Berlin axed a delayed modernisation of its Lockheed P-3C Orion fleet.
The German navy has operated eight of the four-engined type since 2006, after acquiring them from the Netherlands. Cirium fleets data shows that the aircraft are aged between 35 and 38 years.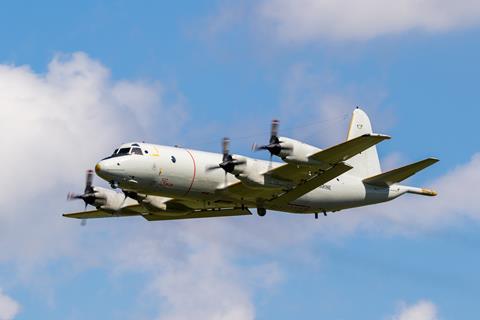 In mid-June, Berlin announced the termination of a cockpit and mission system update for the type, saying programme delays had caused "insufficient operational readiness, without any foreseeable improvement". Valued at almost $220 million and awarded to Lockheed in late 2017, the contract had been expected to enable Orion operations to continue until 2035.
France and Germany have been jointly assessing their long-term requirements via a Maritime Airborne Warfare System (MAWS) effort, which is also intended to deliver replacements for the French navy's Dassault ATL-2 Atlantique platforms.
Under their agreement, the nations plan to select a European platform existing in 2023 to form the basis of their capability. Airbus in 2018 outlined its intention to use the A320neo for such an application. Broader industrial participation in MAWS is likely to involve companies including Dassault, Hensoldt, Safran and Thales.
"A gap in capabilities resulting from the elimination of the P-3C Orion cannot be accepted," Germany's defence ministry said in mid-June. A market survey "that takes into account all platforms available on the market" was under way, it added, noting that this activity would "assess all interdependencies on the Franco-German [MAWS] co-operation project".
"We are fully committed to provide an alternative solution [to Germany's P-3Cs], and to stay a leader in the MAWS project, to ensure that our customer will select our proposal based on the A320," Airbus Defence & Space head of tanker and derivatives programmes Didier Plantecoste tells FlightGlobal.
"We are articulating a proposal to Germany, to answer their need for maritime patrol capability," he says, while adding: "We would like to protect the MAWS programme."
Despite the challenges posed by Berlin's interim requirement, Plantecoste says: "The MAWS project is more alive than ever. We see more important momentum in our discussion with all the parties, and are looking to be involved in a new development phase, which for us should start next year.
"If we do not succeed in having France and Germany together, we will not be able to develop such a capability," Plantecoste cautions. "A maritime patrol aircraft of that size is something requiring energy, and to be viable we need a minimum number of aircraft. For that, we need absolutely to build around France and Germany, but also potentially in the next step, why not have Spain, or Canada, or others, join?"
While Germany's P-3C mission system enhancement project has been abandoned, a rewinging contract placed with Lockheed and Airbus in July 2015 will continue. The European company has already completed work on two aircraft at its Manching site near Munich.