Boeing's top executive described a "messier quarter" for the Seattle-area aerospace manufacturer, which saw $1.3 billion in cost overruns across several major defence programmes.
Those cost overruns, largely driven by changes to government contracts and supply chain challenges, led to a 24% decline in revenue compared to the same three-month period in 2021. Defence sales in the first quarter of 2022 were valued at $5.5 billion.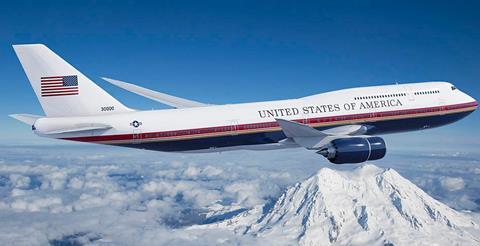 The largest overrun charges were on Boeing's VC-25B Air Force One programme. The replacement for the USA's presidential aircraft racked up $600 million in extra costs, which the company blames on rising supply costs and schedule delays.
Chief executive David Calhoun even went so far as to express regret for accepting the VC-25B contract. Speaking during a 27 April earnings call, Calhoun describes the deal to deliver two presidential jets as "a very unique negotiation, a very unique set of risks that Boeing probably shouldn't have taken".
The contract was awarded in 2018 during the Trump administration, and the former commander in chief often appeared to take a personal interest in the programme. Trump communicated his dissatisfaction about delays and cost overruns via Twitter and apparently pushed the Pentagon into tough negotiations with Boeing to drive down those costs.
Those tactics apparently resulted in a contract clause requiring Boeing, not the government, to absorb the cost of any overruns on the programme.
Calhoun also notes that pandemic-related interventions are a significant driver of costly delays. Production workers on the VC-25B line are required to be extensively vetted for security risks, he explains. When some of those technicians are sent home due to Covid-19 exposure, quickly replacing them is not always possible, often leading the line to shut down.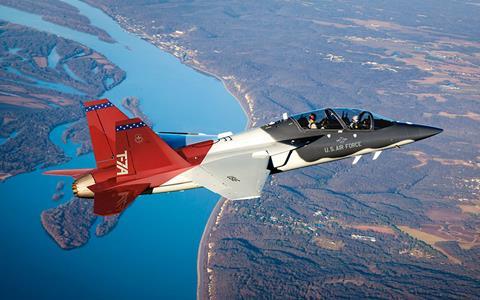 The US Air Force T-7A training jet was another major source of cost overruns. Boeing says the same pandemic-related worker challenges and supply chain constraints led to $367 million in charges on that programme.
Separately, on 28 April, Boeing unveiled the new T-7A Red Hawk trainer at the comapny's facility in St Louis, Missouri, where it will undergo ground and flight testing. The air force is expected to purchase 351 T-7As.
The KC-46A Pegasus aerial tanker and MQ-25 unmanned refuelling drone programmes also experienced cost overruns.
Boeing has struggled in the defence sector in recent years, often losing new bids to rivals including Lockheed Martin and Northrop Grumman. Several of the company's legacy military platforms, like the US Army's AH-64 Apache attack helicopter, are scheduled to be phased-out in the coming years.
Despite those headwinds, the defence sector has actually been a bright spot in Boeing's business of late. That segment of the company turned a $1.5 billion profit in 2021.
The larger commercial jet division lost more than $6 billion during that time as the company struggled with fallout from two crashes and the subsequent worldwide grounding of its 737 Max airliner.