Boeing says it has responded to Australia's request for information (RFI) related to acquiring a replacement for the BAE Systems Hawk 127.
"The T-7, which is scalable, interoperable and configurable, is ideally suited to address the Royal Australian Air Force's [RAAF's] next-generation frontline fast-jet aircraft training requirements," says Boeing.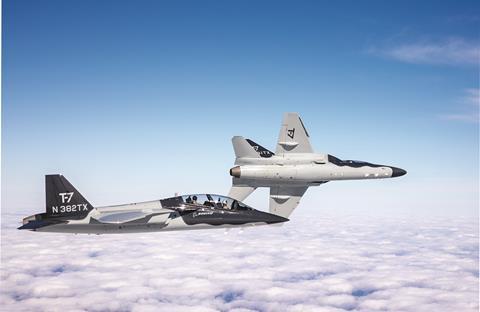 "The advanced pilot training system features a low-risk, leading-edge, live, virtual and constructive, fifth-generation aircrew training environment," the company adds.
Canberra issued the RFI for its Project Air 6002 Phase 1 future Lead-In Fighter Training System (LIFTS) in June.
Following the RFI, BAE, Boeing and Leonardo all confirmed that they were interested in the requirement. Korea Aerospace Industries said at the time that it was reviewing the request.
"No other training system in the world today will better develop the skills required to operate the RAAF's most advanced frontline aircraft like the [Boeing] F/A-18 Super Hornet, EA-18G Growler and the [Lockheed Martin] F-35," says Chuck Dabundo, vice-president of T-7 programmes at Boeing.
The company adds that the T-7 training system includes the aircraft and ground-based equipment including simulators and debriefing stations.
Boeing also promoted the T-7 at the 2019 Avalon Airshow near Melbourne.
The T-7A Red Hawk emerged victorious in a long-running competition to replace the venerable Northrop T-38 in US Air Force service. The deal will see Boeing provide 351 examples valued at up to $9.2 billion.
Cirium fleets data shows that the RAAF operates 33 Hawk 127s.