Boeing (NYSE:BA) has signed a deal to continue providing maintenance and logistics support to Italy's fleet of Boeing KC-767A aerial tankers.
Arlington, Virginia-based Boeing said on 4 August that it has signed an agreement with the Italian Ministry of Defence's Directorate for Air Armaments and Airworthiness (DAAA) to provide full Performance Based Logistics (PBL) for the Italian air force's four KC-767s through December 2025.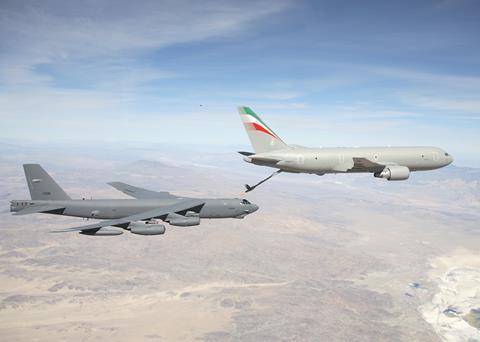 Boeing developed the KC-767 in 1990's, based on the airframer's 767-200ER design. Italy was the first country to place an order for the KC-767 platform in 2001.
The Italian air force has been receiving integrated fleet support from Boeing for its tanker fleet since 2011. The company notes that over that period, the refuelling jets have flown more than 9,000 missions, during which 9,000 flight hours were logged and 123 million pounds of fuel offloaded.
Boeing says that on average, the KC-767 operate at twice the utilization rate per airframe of legacy military tankers.
Services provided by Boeing include line and heavy maintenance, repair, and overhaul, supply chain, engineering support, publications revisions and flight and maintenance training.
Italian officials praised Boeing's performance over the course of previous KC-767 sustainment contracts.
"These aircraft are truly a strategic and highly visible Italian national asset," says DAAA director Lieutenant General Giuseppe Lupoli. "Through the partnership with Boeing, the Italian air force aims at having continued high mission readiness and success throughout the 41-month extended PBL agreement period of performance," he adds.
The Italian MOD notes that its KC-767s have been involved in supporting the anti-ISIS campaign in Iraq and Syria, the evacuation mission from Kabul, Afghanistan in the summer of 2021 and repatriation and resupply missions related to the Covid-19 pandemic.