Embraer has chosen longtime executive Bosco da Costa to be chief executive of Embraer Defense & Security, succeeding Jackson Schneider, who is retiring.
The Brazilian airframer disclosed the executive change on 11 November, saying Schneider will support the leadership transition until April 2023, when he retires.
The company does not specify when da Costa will take the defence CEO title and did not immediately respond to a request for more information.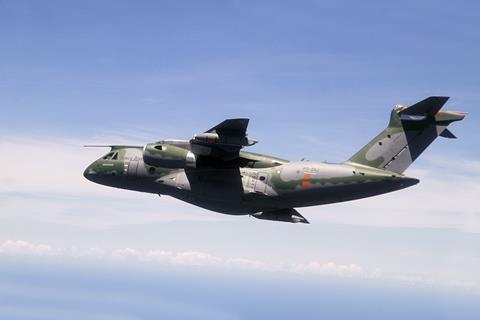 Da Costa joined Embraer in 2005 and has since held several leadership positions, including those with procurement and supply chain oversight. He has been Embraer Defense & Security chief commercial officer since March 2020, according to his LinkedIn.com profile.
Da Costa "has always combined technical excellence, focus on results and strong leadership in all areas he has worked in", says Embraer chief executive Francisco Gomes Neto. He "has done an excellent job as the defence sales leader and has the right skills to lead the business unit in the current global geopolitical environment".
Schneider joined Embraer in 2011 and has headed its defence business since 2014, leading the division through development of the KC-390 medium-lift transport aircraft.
Schneider has also overseen government relations, a responsibility that will now transition to Gomes Neto, Embraer says.