Canada's first Airbus Defence & Space C295 search and rescue (SAR) aircraft has arrived at the Canadian Force's Base Comox, in British Columbia.
The aircraft landed at the base on 17 September, says Airbus. It is the first of 16 twin-turboprops contracted in December 2016 to fill Ottawa's fixed-wing search and rescue (FWSAR) requirement.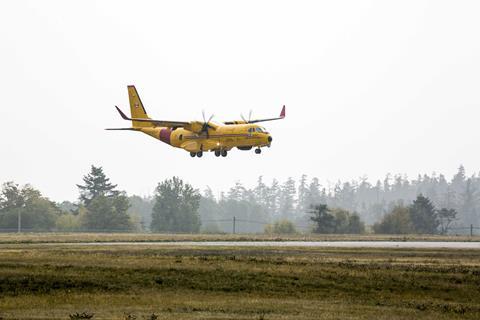 Airbus has delivered three aircraft so far, with the second set to arrive in Canada "in the coming weeks". Deliveries will run until 2022.
The type will be designated CC-295 in Canadian service. In addition to the 16 aircraft, the deal includes training, engineering support, maintenance, and a new training centre in Comox.
The 16 C295s will replace six de Havilland Canada CC-155 Buffalos and 13 Lockheed Martin CC-130H Hercules at four bases spread across Canada, providing SAR coverage from the arctic to the southern border with the USA.
"Thanks to the excellent collaboration with Canadian officials we have overcome the challenges caused by Covid-19 and we were able to deliver the aircraft," says Dirk Hoke, chief executive of Airbus Defence & Space.
"Despite the current pandemic, we are confident of achieving the programme target of six deliveries by the end of this year. We look forward to our continued collaboration and to the C295 Canada."
FWSAR was decided in December 2016 after a torturous 14-year acquisition process. Canada launched the original FWSAR competition in 2002, but shifts in spending priorities and accusations of bias in the early bidding process delayed a final selection by more than a decade.
In press reports, the government was accused of developing requirements tilted to heavily favour the Leonadro C-27J Spartan. When the competition was resumed in 2011 after a five-year hiatus, the Royal Canadian Air Force commissioned an independent review of the requirements, which in 2015 cleared the project of showing bias to any single bidder.
The win was a coup for Airbus, given its lengthy effort to defeat the C-27J. The competition also saw a challenge by Embraer with the KC-390. Lockheed considered proposing the HC-130J, but decided not to enter the final round of the competition.
The deal also had to overcome a protest from Team Spartan in early 2017.