A glass cockpit upgrade for the Boeing RC-135 Rivet Joint electronic intelligence aircraft has secured UK certification, with a first modified example close to being returned to operational use by the Royal Air Force (RAF).
Detailing the flightdeck modernisation activity, the UK's Defence Equipment and Support (DE&S) organisation on 14 July said that RAF example ZZ664 is the first of 20 UK and US Air Force (USAF) Rivet Joints due to receive the enhancement.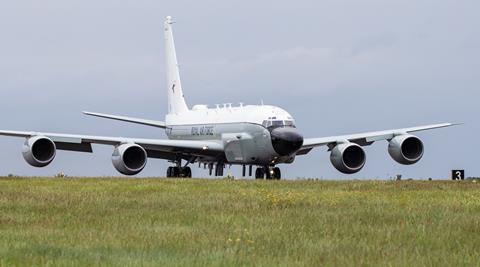 Now equipped with large-format digital displays following an upgrade activity performed in the USA, the Rivet Joint will provide increased situational awareness for pilots, "making flying operations easier and safer", DE&S says.
"Integrating these enhancements onto a legacy jet was a technically ambitious achievement, which underpins Rivet Joint's ability to deploy anywhere in the world," notes Air Commodore Nick Hay, the RAF's air ISTAR force commander.
A new simulator for the glass cockpit-equipped Rivet Joint has already been installed at RAF Waddington in Lincolnshire, DE&S says. "ZZ664 has undertaken the first of a series of flightdeck training sorties from Waddington, with the aim of shortly resuming exercises and operations," it adds.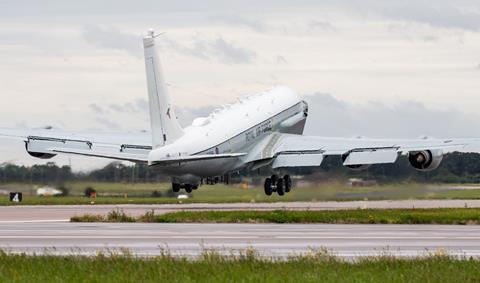 The RAF's two additional RC-135Ws are also due to receive the update "in due course". Acquired via its Airseeker programme, the surveillance fleet was delivered to the UK from November 2013.
Cirium fleets data shows that the USAF currently operates 22 RC-135s, with its oldest airframes aged 58 years.